MSU accounting team wins regional competition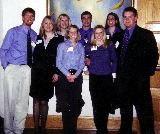 A team of Montana State University-Bozeman College of Business accounting students received top honors and were presented with the Outstanding Case Presentation Award at the Beta Alpha Psi (BAP) Rocky Mountain Regional Meeting, recently hosted by Northern Colorado University, in Greeley. The MSU accounting team's case presentation was judged the best of 12 teams from four different states. Along with MSU, teams from Brigham Young, Utah, Utah State, Weber State, Wyoming, Idaho State, Colorado-Boulder, Colorado-Denver, Colorado State, University of Denver, Northern Colorado, and Fort Lewis College participated in the case presentation.
"This year's award furthered MSU's long-standing reputation for accounting excellence," said Christie Johnson, associate professor of accounting and club adviser. "MSU accounting students have received top awards at nearly every regional conference attended. The students did an outstanding job, impressing not only the judges, but even faculty and students from competing universities in the region."
Students Natalie Dachs, of Kalispell, Heidi Haugen, of Columbia Falls and Mike Jurenka, of Rudyard, presented a creative approach to demonstrate their knowledge of financial reporting and auditor responsibilities for detecting financial statement fraud. The students applied their knowledge to a fictionalized case prepared by Deloitte & Touche, drawn from an actual situation involving a public company in which executive compensation and incentives ultimately led to financial statement fraud.
The students supporting team included Kevin Doran of Butte, Andrea Kraft, of Billings Jessica Overcast, of Chinook, Ben Polansky, of Bozeman and Heather Sandvik of Billings, who provided research and support to the presenters.
MSU alumnus Chris Smith, partner of Anton Collins Mitchell LLP, a BDO Seidman affiliate, was the opening keynote speaker. Smith, formerly of Bozeman, is a 1985 MSU accounting graduate. Lisa Bidwell, 1987 MSU accounting graduate, past president of the MSU Beta Alpha Psi chapter, and former member of the Beta Alpha Psi national board of directors, also joined the students for the evening sessions. Bidwell, a native of Belfry, started her career with Deloitte & Touche in Portland and is currently an Internal Auditor with Qwest in Denver.
Beta Alpha Psi is the national scholastic and professional organization for accounting, finance and information systems students, with over 200 chapters located only on campuses with business schools accredited by the Association to Advance Collegiate Schools of Business (AACSB).