2004 College of Business Scholarship Winners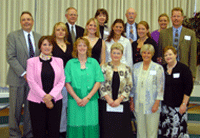 Pictured are members of the Bracken family, College of Business representatives and several student scholarship winners.
The following students of the College of Business were the recipients of a scholarship presented to outstanding students in the College of Business at Montana State University-Bozeman recently.
More than 80 students received scholarships that were generated from endowments and funds set up to specifically grant financial aid to student enrolled in the MSU College of Business.
The College of Business offers four option areas of studies, five minors and a Master's of Professional Accountancy and is accredited by the Association to Advance Collegiate Schools of Business. The College's Center for Entrepreneurship for the New West was ranked in the May 2004 issue of "Entrepreneur" magazine as one of the top ten schools with an emphasis in entrepreneurship. For more information on the college, visit its website at www.montana.edu/cob.
The following are the scholarship winners and the sponsor of the award:
MONTANA
Anaconda: Brandie Barkell, Frank Preston Scholarship; Abby Reardon, Montana Bankers Association Scholarship
Augusta: Tyler Stephens, Helen Fechter Scholarship
Big Timber: Alexis Callahan, Bracken International Study and College of Business Scholarship
Billings: Kaycee Armstrong, Harvey A. Larson Scholarship; Megan Rutherford, College of Business Scholarship; Heather Sandvikv, Beta Alpha Psi & MSU Accounting Club; Ryan Schafer David W. & Dorothy E. Patterson Scholarship
Bozeman: John Bostedt, College of Business Scholarship and US Bank Scholarship; Matthew Neece, Helen Fechter Scholarship; Danielle Smith, Junkermeir, Clark, Campanella, Stevens Scholarship; Luke Solomonson, Bi-Mart Scholarship
Chinook: Lindsey Erskine, Mary Frances Bennett Memorial; Jessica Overcast, David W. & Dorothy E. Patterson Scholarship
Churchill: Carrie VanDyken, David W. & Dorothy E. Patterson Scholarship
Columbus: Jessica Drain, National Science Foundation Entrepreneurship Studies
Custer: Billie Gunn, Harlan F. Patterson Scholarship
Cut Bank: Aaron Brown, Elizabeth Seitz-Moyer Memorial; Jennifer Lindberg, College of Business Scholarship
Dillon: Kapri Malesich, Boeing Business Scholarship
Eureka: Isaac Merrill, National Science Foundation Entrepreneurship Studies; Peter Schmidt, David W. & Dorothy E. Patterson Scholarship
Fairview: Corey Trudel, David W. & Dorothy E. Patterson Scholarship
Forsyth: Jaisen Pester, Deloitte & Touche Scholarship
Fort Benton: Rachel Honrud, Bracken International Study; Kiersten Ritland, KPMG Peat Marwick Scholarship
Fromberg: Jodi Thelen, Dr. and Mrs. William J. Munro Scholarship
Great Falls: Nathan Green, David W. & Dorothy E. Patterson Scholarship; Anne McDonald, Elizabeth Seitz-Moyer Memorial Scholarship; Tamara Rammell, David W. & Dorothy E. Patterson Scholarship; Eric Timerson, David W. & Dorothy E. Patterson Scholarship
Hardin: Melissa Schaak, David W. & Dorothy E. Patterson Scholarship
Havre: Nikki Grant, KPMG Peat Marwick Scholarship
Helena: Kerry Dolan, KPMG Peat Marwick Scholarship; Jennifer Kopec, EideBailly LLP Scholarship; Kathleen Martin, Grace Rosness Memorial; Christopher Mehr, National Science Foundation Entrepreneurship Studies; Jordan Salo, Montana Society of CPAs; Jacob Warner, David W. & Dorothy E. Patterson Scholarship
Highwood: Megan Lamotte, David W. & Dorothy E. Patterson Scholarship
Ismay: Kyra Drga, Harlan F. Patterson Scholarship
Kalispell: Natalie Dachs, David W. & Dorothy E. Patterson Scholarship; Kala French, Bracken International Study
Lincoln: Brynn West, David W. & Dorothy E. Patterson Scholarship
Livingston: Lisa Huntziger, National Science Foundation; Karlee Jorgenson, Galusha, Higgins, & Galusha Scholarship; Annjanette Mikesell, National Science Foundation; Brenda Truman, Elizabeth Seitz-Moyer Memorial
Lustre: Rebecca Redding, David W. & Dorothy E. Patterson Scholarship
Malta: Sally Bruce, Robert Simkins Memorial
Manhattana: Ashley Ward, National Science Foundation Entrepreneurship Studies
Melrose: Andrea Kearns, KPMG Peat Marwick Scholarship
Miles City: David Graham, Elizabeth Seitz-Moyer Memorial; Kalina Gunderson, National Science Foundation Entrepreneurship Studies; Joshua Sloan, David W. & Dorothy E. Patterson Scholarship; DonnaMae Stanley, Frank Preston Scholarship
Missoula: Jamie Davidson, National Science Foundation Entrepreneurship Studies
Plentywood: Janet Cybulski, KPMG Peat Marwick Scholarship
Sidney: Kalynne Lee, Howard Kelsey Memorial
Sunburst: Melissa Ostberg Scott and Barbara Heck Scholarship
Thompson Falls: Erin Clark, Jeanne M. and Harold Roby Scholarship
MICHIGAN
Grand Rapids: Casey Cadena, National Science Foundation Entrepreneurship Studies
MINNESOTA
Grand Rapids: Michael O Toole, National Science Foundation Entrepreneurship Studies
NEVADA
Reno: Dan Czech, Bracken International Study Scholarship; Jesse Engle, Bracken International Study Scholarship
OREGON
Eugene: Maya K. Schmidt, J&H Office Supply Scholarship
SOUTH DAKOTA
Brandon: Brett Buxton, College of Business Scholarship
WASHINGTON
Spokane: Molly Budinsky, Bracken International Study
WYOMING
Casper: Brandon Perkins, Elizabeth Seitz-Moyer Memorial; Gilette Deborah Crawford, Helen Fechter
Powell: Glen Champlin Deloitte & Touche Scholarship
ENGLAND: Norwich Gillian, Erlandson Hamilton, Misfeldt & Company Scholarship
JAPAN: Akio Mochizuki, KPMG Peat Marwick Scholarship