Student makes great strides in pursuing career goals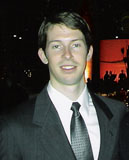 Jesse Woodson at reception in Washington D.C.
When Jesse Woodson contemplates his future, he can eagerly anticipate great things to come.
Woodson, originally from Urbana, Ohio, graduated from the Montana State University College of Business in December with an option in both management and marketing as well as a minor in international business.
Even in his younger days of high-school, Woodson demonstrated a drive which many people only dream of. He was released from his high-school weeks early to take a summer job in Oregon. His demonstrated initiative was only a sign of what was to come.
At the completion of his work in Oregon, Woodson moved to Bozeman, where he had vacationed with his family earlier and enrolled in Montana State University's College of Engineering. Woodson soon realized, however, his interests would be better suited in the field of business.
During his second year in Bozeman, Woodson went to school part time to gain residency in the state. This was no small lesson for the blooming student, who was learning to fend for himself. "I was completely on my own, paying for everything. I definitely would say that it empowered me and gave me control over my future and my present. I definitely stand behind the idea of taking on your own responsibility."
Over the course of the next two years, Woodson identified a path of which he hoped to travel. Changing his studies to the College of Business and serving as a member of the Sigma Nu Fraternity, he began to see doors opening. Interning two summers and the fall semester of 2002 at the Sigma Nu headquarters in Lexington, Va., Woodson got a taste for marketing, management, and a lot of hard work. Highlights of the internship included a trip to Toronto, Canada and working with a new values based campaign that the Fraternity was shifting toward. "Overall, the opportunity really helped me to become a better leader," he said.
Before returning to Bozeman, Woodson drove home to Ohio, where he boarded a plane and headed to Sweden for a full year of international business study at J nk ping International Business School. Woodson described the two most important lessons he took away from his year abroad. "Communication was first. I learned how to express myself on a whole new stage and also how to really listen," he said. "The second is increased confidence in myself, as I went abroad not knowing anyone where I would be going. I had to figure everything out on my own the language, the culture, the dos and the don ts."
His European adventure did not end with the semester. Woodson had saved up his money and bought a Euro-Rail pass. Carrying nothing but a school-sized back-pack, he "vagabonded it," seeing every country in the EU completely on his own.
Upon his return to Bozeman, Woodson dove in with both feet, taking school full time, including summer school in order to finish up the following December. He recalls, "It finally hit me, I was ready for the real world."
Dave Foster, adjunct professor of business management and Woodson's advisor, encouraged him to apply for an internship in Washington D.C. Jesse Woodson s experience coupled with his demonstrated performance make him the kind of individual that will have a real impact on any organization," said Foster. Woodson was one of two students accepted for an internship with the U.S. Senate Finance Committee, a position that is organized and entirely supported by the College of Business's Bracken Center. He serves on the international trade subcommittee, which offers legal council on all of the issues coming through the office of Senator Max Baucus (D-Mont.).
And what's next for this budding success? This is not a lingering question. At the completion of his Washington D.C. internship in May, Woodson will be moving to the Seattle area for a two-year rotational management training program, which is part of Boeing's Business Career Foundation Program. "The program is designed to provide an integrated business and leadership curriculum that will enhance the skills and abilities needed to drive value through business leadership," said Stan Weeks, college relations manager from The Boeing Company. He added, "While speaking with Jesse, I learned that he had strong interpersonal skills, communication skills and the ability to work in a team environment. Basically, Jesse did a great job of marketing himself in a competitive job market, and Boeing had the programs and growth opportunities that he was interested in."
Even prior to Boeing's two year position, Woodson certainly has begun to make an impression on what he calls the "real world." Only time will tell what this young man will accomplish.
"My mother taught me that successful people make a habit out of doing what unsuccessful people don't like to do," he said. "And that it was up to me to decide which I am."