Top accounting team from MSU College of Business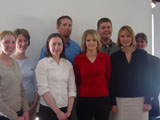 Student Team Winning Beta Alpha Psi Outstanding Team Case Presentation Award
Students from Montana State University College of Business' chapter of Beta Alpha Psi received the Outstanding Team Case Presentation Award at the Rocky Mountain regional meeting of the accounting professional organization recently hosted by Brigham Young University in Provo.
It was the second year in a row that the MSU team received the top award.
The case presentation theme for the conference was "Attributes of Highly Successful Accountants," modeled after the television show, "The Apprentice." The MSU team was chosen for its creative approach and such attributes as leadership, communication skills and ethics and professional judgment. The team was also judged on an accompanying PowerPoint presentation.
MSU students who participating in the winning presentation were:
Students involved were: Kendra Freeck, Ben Polansky, Lindsey Earskine, Kapri Malesich, Mike Jurenka, Donna Mae Stanley, Brian Kupilik, and Janet Cybulski.