Eli Lilly Exec Presents to College of Business Students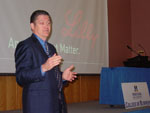 Paul Stewart speaks on business ethics
Eli Lilly exec presented guest lecture to College of Business students Paul A. Stewart, manager of global business development for a division of Eli Lilly, delivered a David Orser lecture at the Montana State University College of Business Tuesday, Oct 4.

Stewart is a seasoned executive with more than 20 year business experience. He currently manages Elanco Animal Health, Eli Lilly's animal health division, which markets animal care products worldwide. Stewart graduated from Purdue University with a degree in agricultural business management. He later earned and MBA from Harvard University.

Stewart s lecture focused on ethics in the business place. He encouraged students to take away three important lessons. First was to take the long view try to look at the big picture. Second he encouraged students to do their share to make our world a better place to live. And, third, he implored them to be an example.

Students and faculty alike peppered Stewart with questions, ranging from ethical decision making to stock investment inquiries. Stewart also offered a full day of consulting for students on Wednesday, meeting with them in small groups in the Bracken Center for Excellence in Undergraduate Business Education.

The lecture was part of a series sponsored by David B. Orser, a 1966 MSU graduate and is a continuing component of a program begun in 1988 to bring to the College of Business leaders to inspire business students, so that they might enthusiastically pursue careers as innovative, responsible and ethical business leaders.