Entrepreneur is Wildly Successful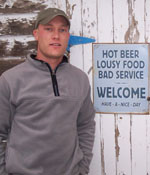 Josh Norland, Owner of Audubon Outfitters
Entrepreneurs are dreamers. They are the people who not only have great visions, but the power, the will and the perseverance to act on them. The MSU College of Business' Alderson Program in Entrepreneurship is helping students, dreamers, to become successful business owners, thriving entrepreneurs.
Josh Norland is just one of those success stories. Norland, who grew up in Williston, North Dakota, melded his favorite pastime with his business-management degree and a minor in entrepreneurship to develop Audubon Outfitters, a full service guide and outfitting operation.
Norland, who has been hunting since he "was old enough to walk" started Audubon Outfitters last year. The company prides itself on strict and diligent management of wildlife habitat, while offering guests "action packed" days of adventure
As one of the students who was part of the College's entrepreneur program's pilot group, Norland always knew one day he would operate his own outfitting business. He said, "From the time I was in high school, I knew I wanted to someday open a hunting lodge. I didn't, however, figure it would happen this soon. I thought maybe it would be a retirement project or something." Little did he know that within the first year of starting his business, it would have become Gander Mountain's exclusive North Dakota Outfitter for geese, ducks, and pheasants.
Norland, who graduated in 2002, attributes much of his success to his education, particularly to what is now called the Alderson Program in Entrepreneurship. "I can tell you without a doubt that my education accelerated the success of my business," he said.
The Alderson Program in Entrepreneurship, funded by Jim and Connie Alderson, has been recognized by Entrepreneur magazine the past two years as one of the top 10 in the nation for a program of its type an accomplishment only half of the schools from the previous year were able to maintain. Rich Semenik, Dean of the College of Business said, "This Program was founded not only to provide an important educational experience for students, but also to have a positive impact on economic development in the state."
The Program offers students the opportunities to work with area entrepreneurs within a partnership with Tech Ranch, a local venture incubator. Students gain hands-on experiences working for local businesses that they can use to enhance their resumes.
"I think what makes MSU different, is the real-world training one receives in the business program," he said. "I can certainly say that the hands-on-aspect of my education was most beneficial to my businesses success."