Former Business Student Accepts VP Position with Wells Fargo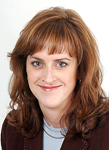 Jenny Albright, VP of Wells Fargo
Jenny Albright, (98 business finance), recently accepted the position of Senior Business Relationship Manager and Vice President of Wells Fargo Bank of Bozeman.
Albright cultivates and manages relationships with commercial banking customers, such as wholesalers and distributors. Her goal is to provide creative financial solutions on a case-by-case basis. Developing creative solutions requires Albright to think outside of the box and provide individualized services to each of her clients. "My success comes in helping my clients to be successful," said Albright.
The banking world hired Albright directly out of school. She made the most of her opportunities; moving up the corporate ladder at US Bank, then serving as a vice-president at Big Sky Western Bank. Albright gained valuable and diverse professional experience from those positions. When asked about her decision to work with Wells Fargo, she said, "A corporate environment is a fast paced environment, which is what I like most."
Growing up in Bozeman and attending Montana State University, Albright figured she knew her town fairly well, and rightfully so. Her experiences in banking broadened her perspective and opened her eyes to the business aspects of the community.
Albright's career has reinforced the value of her education in defining her success. She said, "The College provided a challenging environment. It wasn't an environment that you could just squeak by." She also commented on the caliber of faculty the College of Business has hired. "The professors really are first class," she said.
In her profession, Albright searches for College of Business graduates to hire, noting MSU Business grads are highly respected in their workplaces. She said, "The resonating factor is 'I wish I had more College of Business grads working for me.' It is quite a compliment to the College from administration on down. Students come out knowing so much and are prepared not with just practical information but people skills and letter writing skills. They know how to communicate and solve problems. They have the real world experience under their belt before they ever get out of college."
In her support of the College of Business, Albright serves on the National Board of Advisors. She said, "It is an honor to be a part of the Board and to have some small contribution in shaping the way the College looks to the business community. The members are people that I wouldn't be able to interact with on a day-to-day basis outside of this opportunity."
It is a tremendously positive facet of MSU, equipping students within the College of Business to excel in the business world, whether on New York City's Wall Street or Bozeman's Main Street. Albright is a hometown professional, with a hometown education. She is accomplishing impressive goals on Montana's version of Wall Street. Albright acknowledges The College of Business, hard work and setting substantial personal goals as the most significant factors in her success as a young professional.