Accounting Recruiting Event Offers Great Insight to Students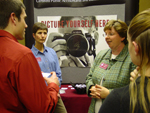 Students visit with recruiters about future accounting professions
Montana State University College of Business' chapter of Beta Alpha Psi, Eta Chi, teamed up with the Montana Society of Certified Public Accountants (MSCPA) to host the Explore Your Montana Career Opportunities event last Thursday evening.
Margaret Herriges, from the MSCPA, and Jenny Forder, who works for RightNow Technologies and is on MSCPA Vision Task Force, organized the event. Herriges brought the MSCPA resource guide and student membership applications for the MSCPA, which is normally $15, but free to those students who attended.
"The purpose of the event was to illuminate accounting career opportunities within the state of Montana," said Professor Christie Johnson, who is also the advisor for the Eta Chi chapter.
Johnson said more than 60 students attended, ranging from freshmen to graduate students to hear from accounting representatives from seven different firms located across the state. Firms included Anderson ZurMuehlen, Joseph Eve & Co., Newland & Co., Holmes & Turner, RightNow Technologies, Lee & Berner, and JCCS.
Katie Goodhart, a sophomore from Helena who had hoped to work for one of the nations "Big Four" accounting firms said, "After [hearing] these speakers, I changed my future career path."
After the firms' presentations, students had the opportunity to mingle with the CPAs and discuss future employment opportunities.
"I really enjoyed attending this event because it was very personal. I never felt rushed talking to anyone, and they seemed really interested in me as a person. It has given me the courage to attend more events in the future" said Carlie Widhalm, a sophomore from Butte.