Cape Awarded Entrepreneur of the Year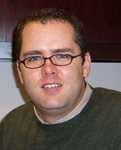 Don Cape Jr. - Montana Ambassador's Entrepreneur of the Year
Don Cape Jr., a 1993 College of Business graduate, was recently honored by the Montana Ambassadors as Entrepreneur of the Year for JWT Capital, LLC, which he co-owns with his wife Shavon ('93) .
He told the Ambassadors, "It's an award for doing what we've always done, and that's what's humbling about it."
Cape, who studied business-finance, started working for his family at Ponderosa Homes, Inc., upon graduation from MSU. He managed the family's manufactured homes retail business. Additionally, he managed Cape France, Inc., a land development firm.
In 1997 Cape moved to Denver, where he and Shavon, who received a business-marketing degree, lived six years before returning home. There he worked at Sonnenblick-Goldman, a real estate investment bank, Chateau Communities, Inc., a real estate investment trust, and Thermo Development, a real estate private equity firm. Additionally, he earned his Masters degree in Real Estate and Construction Management at the Burns School of Real Estate at the University of Denver.
When the Capes returned to Bozeman in 2003, they started JWT Capital, LLC, a holding company specializing in investment and development. The Capes plan to build a unified family of franchise companies to occupy property that they already own. They've begun to implement this business model by franchising the Old Chicago Restaurant and the Hilton Garden Inn.
In an interview with FranchiseUpdate, Cape said, "We've always developed land and sold lots. That's a fairly short-sighted business model. You can make good money doing it, and good returns on your investment, but what we wanted to do was create more of an annuity-style income stream, which the next level is to build buildings and lease them to restaurants. We wanted to vertically integrate even another step and become a tenant. That's our business model with Old Chicago." He continued, "So, we're effectively our own tenant and real estate company."
Cape attributes his success in part to his education with the MSU College of Business. He said, "[My education] gave me the technical understanding of financial transactions and management, but the scope of the COB curriculum from a required course standpoint gave me the greatest advantage. Few business careers afford the luxury of pure specialization. Virtually every career in business requires an understanding of each discipline whether it is finance, accounting, marketing, or management skills. A healthy understanding of each of the disciplines is required to succeed."
Cape received his award from the Montana Ambassadors alongside Rich Semenik, Dean of the College of Business, who was honored with the Educator of the Year award.
Semenik said, "Don exhibits all the qualities of a successful entrepreneur--he is thoughtful, analytical and has perspective. And, like all good entrepreneurs, he seems to have nerves of steel!"
And, the Capes' plans for the future? To continue what they've been doing. They are moving forward with JWT's vertical integration plan and are now working on a similar project in Billings, franchising another Old Chicago and Hilton Garden Inn. JWT holds franchising rights for Old Chicago restaurants in Montana, Idaho and Spokane, WA.