Kent Brittan Chairman of United Technologies Speaks on Campus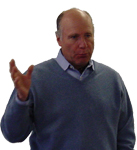 Kent Brittan, Chairman United Technologies International Operations spoke to COB students
Kent Brittan, Chairman United Technologies International Operations, presented a guest lecture to College of Business management students on Monday, April 10, 2006.
United Technologies Corp. (UTC) is a global technology corporation with a long history of pioneering innovation in aerospace, aviation, helicopter design, climate control, elevator design and hydrogen fuel cells.
Brittan's career with UTC spanned 28 years, including 20 at Otis, the world's largest manufacturer, installer, and servicer of elevators, escalators, moving walkways and other horizontal transportation systems. There he served as Vice President of Finance, Director of Financial Planning and Analysis; Director of Treasury Services, and in more than five other positions during his time there.
In a press release regarding Brittan's promotion to chairman last spring, Chairman and Chief Executive Officer George David said, "He has led our Supply Management functions with extraordinary energy, initiatives and results since 1997," David said. "Cumulative savings amply exceed a billions dollars annually."
Brittan's presentation to the students focused on his human resource expertise. He said, "Human resources and human resource management it is the center and secret of success of everything you'll do. It is the core of success."
He also talked about the importance of knowing other cultures when doing business overseas. He encouraged students to learn a foreign language. "Language is the key to opening yourself up to a new culture." He said he knew English, Spanish, French and Italian very well and could read and speak Japanese and Chinese enough to get by while doing business in those countries.
Following his retirement just eight days ago, Brittan has decided to pursue a theology degree at Oxford University.