Marketing Club Travels to Arizona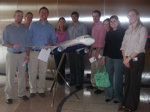 Marketing Club with Michelle Mohr, director of marketing for U.S. Airways.
Recently the MSU Marketing Club went on their annual spring trip where they visited various marketing departments at impressive companies. The journey is an opportunity for students to translate their book knowledge into real life. The students raised money by doing various marketing fundraisers throughout the year, such as producing and selling Cat/Griz t-shirts and hosting the yearly Bozeman Idol. This year, the members of the club traveled to Phoenix, Arizona. They visited such companies as: Wells Fargo, Cramer-Krasselt, and U.S. Airways. The students who went on the trip were: Scott Peterson, Mark Wing, Malia Piccin, Jamie Preuit, Kyle Stack, Heather Baguley, Tobin Gannett, and Darcy Wegh. They were also accompanied by Omar Shehryar, the advisor for the Marketing Club. The trip teaches the students lessons that they cannot obtain in the classroom, such as gaining networking ties from the speakers and what to truly expect upon graduating. It is a real been there, done that experience for the students to discover. If anyone has any questions about the trip or more about the Marketing Club they can email: msu_mc@yahoo.com for more information.
-Submitted by Darcy Wegh