MSU College of Business Inducts New Beta Gama Sigma Members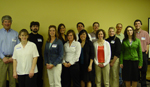 College of Business Students were Inducted into Beta Gamma Sigma
Eighteen MSU College of Business student names were added to the prestigious list of Beta Gama Sigma (BGS) inductees. BGS, an international honors society started in 1913, provides the highest recognition a business student anywhere in the world can receive in an undergraduate or master's program at a school accredited by The Association to Advance Collegiate Schools of Business (AACSB).
During the initiation luncheon held last Wednesday, students were welcomed by BGS President, Christopher Mehr and encouraged by VP of Programs, Morgan Smith and VP of Memberships, Ali Bittinger to live by the standards of Beta, meaning honor, Gama, meaning wisdom, and Sigma, meaning earnestness.
College of Business professor of management, Dr. F. William Bill Brown, was honored with the Beta Gama Sigma Professor of the Year Award. Brown spent 20 years serving as an officer in the US Army before changing his career path to academia and business consulting. He received his Ph.D. from George Washington University in 1987 and taught at Baylor University and the University of Nebraska-Lincoln before joining the MSU College of Business Faculty in January of 1997.
Following the Professor of the Year Award, Nancy Quist was recognized at the Chapter Honoree. Quist, a member of the College of Business National Board of Advisors, held numerous executive positions in marketing and business development for high-tech instrumentation, before "retiring" and starting her new business, Fancy Flours (www.fancyflours.com). Quist offered advice to the new inductees that only a well-seasoned executive could. She said, "Connecting the dots backward at the end of a part of your life, you'll find you did something you liked." And, after connecting her dots, Quist discovered she enjoyed scheming a fundamental aspect of her career as a business executive. She then encouraged students to pursue what they love, as life is all too short. "Death," she said, "is a destination we all share, but at the age of 20, it is an intellectual concept." Upon this realization in her own life. Quist decided to pursue her passion for baking and opened up Fancy Flours, a quaint retail shop, offering fine baking supplies and ingredients.
Quist concluded her brief presentation with her life motto, "I reserve the right to be smarter tomorrow than I am today," and with that, she encouraged the students to believe the same.
2006 BGS Inductees SENIORS: Anne McDonald, of Great Falls; Matthew Neece of Bozeman; Melissa Ostberg of Oilmont, Clancy Powell of Gallatin Gateway; Jessica Roeder of Peoria, IL; and Elizabeth Rupp of Bozeman. JUNIORS: Keith Aldrich of Bozeman; Erin Ahlgren of Billings; Sarah Bergantine of Bozeman; David Cole of Manhattan; Christopher Drake of Big Sky; Tina Dykstra of Belgrade; Jennifer Graham of Terry; Julie Ho of Baker; Inna Omelyukh of Bozeman; Kelly Rickard of Billings; Jonathan Sestrich of Golden, CO; and James Truckle of Cardwell.