College of Business Students &Faculty Honored at Awards for Excellence Banquet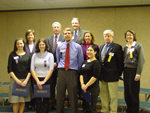 Five College of Business students and their chosen faculty members receive awards
Five College of Business students were honored at the 24th Annual Awards for Excellence banquet, held last Tuesday in the MSU Strand Union Ballrooms.
The Awards for Excellence is sponsored by the MSU Alumni Foundation and the Bozeman Chamber of Commerce and was established with a goal of "bridging the gap between town and gown."
The College of Business students were joined by more than 35 other senior-level students nominated by the faculty of their respective colleges. Each student must maintain a minimum 3.5 GPA, must be involved in campus leadership and have demonstrated an active role in community service.
Student nominations are forwarded to the Alumni Association who makes the final decision and contacts the selected students. The students who are nominated are then asked to select a mentor a faculty or staff member of Montana State University who has contributed to their success as students.
The students and mentors who were honored at this year's banquet were:
Alison Bittinger, a management student from Bozeman who selected Craig Ehlert, adjunct instructor of management; Daniel Czech, a management student from Reno, Nevada, who selected Carmen McSpadden Director of the MSU Leadership Institute with ASMSU and adjunct instructor of business management; Mark Iverson, (in absentia), a marketing student from Steamboat Springs, CO, who selected Susan Dana, associate professor of management; Audrey Lee, a marketing student from Butte, who selected Dave Foster, adjunct instructor of management; and, Morgan Smith, an accounting student from Helena who selected Priscilla Wisner, assistant professor of accounting.