Caton Joining the MSU College of Business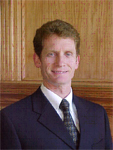 Dr. Caton Joins the College of Business
Dr. Gary Caton will be joining the faculty of Montana State University College of Business in June of this year.

Caton received his Ph.D. from the University of Oklahoma in 1996. Prior to joining the College of Business, Caton taught Finance at both Washington State University and Chapman University in California. Additionally, he was a senior lecturer at Otago University in New Zealand. Before pursuing an academic career, Caton spent nine years flying KC-135s and C-130s for the US Air Force based in Washington and Colorado.

Caton has taught in all areas of finance at both the undergraduate and graduate levels. His research interests lie in the field of financial management. He has presented his research at seminars, international conferences and universities in Canada, New Zealand and the United States. His work has appeared in Financial Management, the Financial Analysts Journal, the Journal of Financial Research, and the Review of Quantitative Finance and Accounting. In addition, he has served as a reviewer for Financial Management, the Journal of Financial Research, and Financial Review.

When asked why he chose to join the College of Business at Montana State University, Caton replied, "Not only am I joining a great faculty led by a visionary dean, but between Bozeman, Bridger Bowl and the Big sky, I can t think of a better place to live."

Welcome Dr. Caton.