College of Business Professor Teaches in Vietnam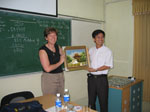 Dr. Wisner Accepts a Framed Pagoda from a Vietnamese Student
"Than tu" means hello in Vietnamese, and was one of the phrases Dr. Priscilla Wisner became very familiar with this summer. Wisner, an assistant professor of accounting at Montana State University College of Business, spent three and a half weeks teaching and traveling in Vietnam.
Teaching at the National Economics University in Hanoi, Wisner experienced first hand more than just educational differences. "It was definitely culture shock at first," she said. She spent the first two weeks teaching accounting and financial statement analysis to 42 EMBA students. One of the biggest contrasts Wisner noticed was that students there, who were mostly in their late 20s, were great at collaborating. In the Vietnamese educational system, collaborative efforts ensure that no one gets left behind, and helping fellow students (and being helped) on problems, quizzes, and exams is one way of saving "face." Instead of resisting, Wisner said, "I just learned to go with the flow."
Of course, she faced the toughest challenge of teaching in another country the language barrier. Although all of the students knew English, it was in varying degrees, making communication with some students more difficult than with others. This became more problematic as she wrote quizzes and discovered that some of the students had great difficulty reading English. Wisner said, "I told them their English was far better than my Vietnamese," as she helped them through the problems.
At the conclusion of her two week teaching stint, her students gifted her with a framed needlework pagoda, thanking her for what she taught them and for being a fun and enthusiastic teacher. She also received gifts from her teaching assistant and the university, along with a request to return the next year to teach again.
Outside the walls of the school, many more adventures awaited Wisner. Very early every morning, the city was filled with individuals and groups of people doing fitness activities from tai chi to aerobics to jogging. Badminton courts and players lined the sidewalks and streets, with players ranging from young children to older men and women. "It was a beehive of activity," Wisner said. By about 7 am, the population would change from the exercise groups to people going to work. At about that time, the streets (and sidewalks) would fill up with motorbikes, bicycles, busses and thousands upon thousands of people bustling about. One of the biggest obstacles Wisner admitted to facing in Hanoi was crossing the street. Wisner said, "The first time I was faced with having to cross a street, I thought, No way! I'll stay right here on the sidewalk, or maybe just walk around this one block all day long. Finally, I decided that the safest thing was to attach myself closely to an older Vietnamese woman, figuring that they would not run her (or me) over. Stepping off the sidewalk in Hanoi really required a leap of faith that the traffic would actually go around you, not over you."
About a week into her trip, Wisner's mother, Marie Vernon, joined her. Staying at the Army Hotel, one of the first hotels to serve international travelers when Vietnam opened up in the 1980s, they were centrally located in Hanoi and close to Hoan Kiem Lake and many of the city's attractions. Following her first week of teaching, Wisner and her mother headed east to explore Ha Long Bay and Cat Ba Island. The first night was spent sleeping on a boat in the middle of Ha Long Bay. "I think we could see every star in the sky from the deck," Wisner said. The trip involved touring through caves, sea kayaking and trekking through the rainforest. To Wisner's surprise, while she trekked through the jungle with a guide, her mother arranged for them to explore Cat Ba Island that afternoon on the back of the boat captain and his friend's motorcycles. That five-hour adventure included a stop at the boat captain's house for tea with his wife and son, a visit to a bamboo house that the captain was building, and dining at his friend's restaurant.
During the second week in Hanoi, Wisner and her mother had the privilege of being escorted by two local professors around the city, where they visited the mausoleum containing the embalmed body of Ho Chi Minh, the presidential palace and grounds, the ancient First University of Hanoi (where the mandarins were trained), and they saw some of the ornate temples and lush gardens of Hanoi. Wisner was grateful for the assistance of their guides; "Being able to tour the city with these local guides provided a dimension of understanding about Vietnam culture that was much richer than any guidebook could ever provide."
After the second and final week of the class, the duo headed further south to tour the areas of Hue, Danang and Hoi An. In Hue, they visited various temples, palaces of the former dynasties, and the citadel. It was at the citadel where the impacts of the war's destruction were most evident, as this was a heavily-contested battleground. Wisner and her mother spent the final few days of their trip in Hoi An, where they visited a marble cutting operation and a silk factory, had a few (okay many!) silk outfits made and toured the markets and town. They also attended the Red Bridge Cooking School, where they learned to prepare local cuisine and were given delicious recipes to bring home.
Wisner was reluctant to leave Vietnam, but finally returned home on June 4. Will she ever go back? "Most definitely! I've done a lot of traveling, but going to Vietnam was the best trip of my life," she said. Planning to again teach when she returns to Vietnam, Wisner also hopes to work with younger children. She is currently trying to set up a classroom exchange program with Bozeman elementary students to communicate with students in Vietnam.