With more rain than shine, the Classic Open Benefit was more than fine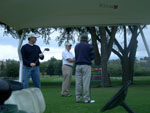 College of Business Golf Tournament was a great networking event
The College of Business hosted the Fifth Annual Classic Open Benefit Golf Tournament September 15, at Valley View Golf Club in Bozeman. The event was co-hosted by First Security Bank, JCCS and Bud Select, a product of Cardinal Distributing.
This was the first year the weather didn't cooperate, but with more than 100 golfers and a plethora of great prizes, the rain and cold didn't prevent a great day of golfing, networking and fundraising for the College of Business.
The golfers competed in a four-person scramble and also had opportunities to win several individual prizes. Most of the golfers completed nine holes before the rain drove them inside. The winning team sponsored by First Interstate Bank, was comprised of Norm Millikin, Les Mahon, Doug Lanphear and Adam Wrighton. They will have their names etched into the coveted traveling crystal trophy.
Dean Folkvord, ('82 Ag Business), of Wheat Montana Farms and professional auctioneer led the live auction. The auction's great success was due to the many businesses contributing prizes. These businesses, as well as all other sponsors can be found in the Honor Roll of Donors pages in this publication. In addition, members of the Ad Club, Beta Gama Sigma and the International Business Club volunteered their services throughout the day helping with events and assisting golfers.
In the end, the true winners of the golf tournament are the students who benefit from the profits which will be used to provide funding for College of Business programs, development and scholarships. Students from clubs also profited from proceeds made from services they provided to participants throughout the day.
A great committee of alumni and friends of the College ensured the day went smoothly Those members include Kerry Hanson ('93), Kevin Doran, (04), Daren Nordhagen ('93), Paul Pahut ('00), Ryan Kuntz ('04), Cassidy Seymour ('03), Kathleen Tonkovich ('88), and Diane Allen
The 6th Annual Classic Open Benefit Golf Tournament is tentatively set for Sept. 14, 2007 at Valley View Golf Club. For more information, please contact Jackie Sather at 406-994-6766 or jsather@montana.edu.