College of Business Alum Honored in the 40 Under 40 List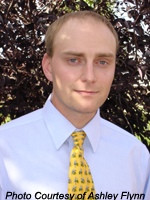 Eric Flynn, a College of Business alumnus, was recently named in Montana Business Journal's 40 Under 40 List
Eric Flynn, a Montana State University College of Business alumnus, was recently named in Montana Business Journal's inaugural 40 Under 40 list which honors 40 successful business persons from the State under the age of 40. He was nominated for this honor by the Bozeman Area Chamber of Commerce.
Flynn, who received his undergraduate degree in business accounting in 2001, and his Masters in Professional Accountancy in 2002, is a prototypical graduate of the College of Business. A Montana native who was raised on a ranch near Townsend, Flynn is no stranger to working hard and has a drive to succeed in whatever he pursues.
Flynn believes his work ethic, combined with an exceptional business education and subsequent CPA and CFA (Certified Public Accountant and Chartered Financial Analyst, respectively), Charterholder certifications, prepared him well for his professional career. As an investment analyst for Bozeman based Bitterroot Capital Advisors (BCA), Flynn is involved with analyzing portfolios and their performance, manager searches, and reporting for clients. In his words, "BCA focuses on relationships. Much of my time is spent serving and maintaining relationships with clients and investment managers. Having the opportunity to see many different sides of the business and the benefits we deliver to clients were the main draws in joining BCA."
Flynn describes BCA as an independent, Securities Exchange Commission (SEC)-registered financial advisory firm, which addresses the needs of a select number of private individuals with substantial assets. The firm manages approximately $650 million in assets with a handful of relationships. In addition to its Bozeman headquarters, BCA maintains an office in San Francisco. He said, "We provide objective advice on managing wealth. In essence, our core capabilities lie in dealing with complex financial situations -- developing a custom-tailored solution for each client."
In addition to professional success, business persons listed in the 40 Under 40 list are committed to community involvement and outreach, and Flynn is certainly no exception. His list of volunteer activities is a reflection of his commitment to the Bozeman community, where he is involved with Bowl for Kids Sake, coaching 5th and 6th grade basketball and volunteering with Habitat for Humanity. He said "Bozeman is a great place to live and work with endless opportunities, so I try to do what I can to help the community." Flynn also is continuing to develop his professional skills and relationships by attempting to initiate a CFA Institute Chapter for Montana.
Flynn attributes much of his success to the education he received at the College of Business and the dedicated faculty he came to know while attending school. "The College of Business was a major factor in my success. The contacts I made during my time there opened more doors than I realized. The faculty at the College of Business is directly responsible for introducing me to BCA, having given me a great recommendation when the time came. He continued, " and more importantly, the quality of the education I received was top notch. Without that, I wouldn't be in the position that I am today. During my summer internship with Arthur Anderson I competed with peers from approximately 40 other top schools in the nation and I would put my knowledge and preparation up against any of them."
Bonita Peterson, professor of accounting, said, "Eric is highly deserving of this recognition. He was an outstanding student in our undergraduate and graduate accounting programs. As some evidence of the high-caliber of student he was, he passed all four parts of the CPA exam on his first try, with extremely high scores, as soon as he completed our graduate program. In addition to being a CPA, he has continued studying on his own and successfully completed the very rigorous certification process of becoming a CFA Charterholder. Eric was a pleasure to have in class and the accounting faculty is very proud of him and the success he has achieved to date!"
Having a few years of real world work experience under his belt has taught Flynn much about achieving success as a business professional. He has given back to the school by speaking to current finance classes and offers guidance to College of Business students, saying, "Don't doubt your abilities. The College of Business prepares you for more than you know. Be sure to participate in the Accounting/Finance Club, etcetera, as these clubs really do help you meet people from all over the business world and expose you to many professions with which you may not be familiar. You will also begin to create a network that can help you down the road. He concluded that students need to leverage their professors for networking and job searches. He said, "They know more than you realize."