Marketing Alpacas: A unique project for business students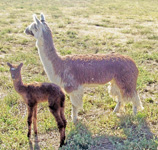 Bozeman Alpaca Traders works with College of Business students
In a place where cattle and horses dominate much of the landscape, Dr. Steven and Debora Jesse have introduced a new breed of livestock to the Gallatin Valley alpacas. The U.S. alpaca industry began to develop in 1984, and in 1999 the Jesses, who lived in Ohio, started Harvest Home Suri Farm with three Suri alpacas. They, along with their son Dylan, produced several award winning alpacas, most notably their two multi-state blue ribbon herd sires.
According to Debora, alpacas are camelids, originating in South America over 5000 years ago. There are two breeds of alpacas, the Suri and the Huacaya. Suri alpacas are the more rare type, producing a fiber that is lustrous and grows parallel to the body, in spirals, much like dreadlocks. Related to llamas, alpacas are now raised in the U.S. for their exquisite, luxurious fiber, which is rarer than cashmere, is softer, warmer, lighter and stronger than sheep's wool, and is also hypoallergenic.
The Jesses, who originally became interested in alpacas as an early retirement business, moved their company to Bozeman (where they had often vacationed) in 2005 after Steven retired from his medical practice. Re-establishing the business as Bozeman Alpaca Traders, LLC, to reflect the "New Spirit of the Old West," the Jesse's business has thrived.
Bozeman Alpaca Traders is a family-owned and operated small business. The company offers alpaca sales, breeding and boarding as well as related services such as educational seminars for those interested in raising alpacas, field trips to the ranch and an on-site Trading Post. The Trading Post offers visitors a truly unique, relaxed shopping experience in an old-West style building, where they offer more than 200 items made from luxurious alpaca fiber, including apparel, accessories, home decor and gifts. The Jesses supply a local fiber mill with raw fleece to produce yarn and felt, which they also carry. Additionally, they produce rovings in-house, which is fiber prepared for spinning into yarn.
The success of the Jesse's business was facilitated by a marketing plan devised by College of Business graduates, Tom Hewitt, Andy Nystuen and Brian Berry. The students participated in Management 475, Business Management Practicum, a class designed to allow students to provide pro-bono work for Montana businesses.
Debora said, "Our goals for the students were primarily to provide them with a knowledge base about the alpaca industry in the U.S., particularly since alpaca ranches are not common in Montana, and to provide them an opportunity to showcase their skill set in assisting us with the development of our marketing plan."
The students' final research project included a marketing plan, in which they determined the following objectives: create public awareness; develop a marketing approach for retail goods; and foster a positive public image. The challenges the students identified for the alpaca industry in Bozeman included the public's limited awareness with the livestock and its products, seasonal challenges for public activities and the considerable start-up costs and commitment required for their marketing plan.
"Our student interns were very focused. They worked diligently to identify the best methods and venues for us to use in promoting our business, which was very new to the area. As residents of the area, their familiarity with existing media outlets and advertising venues was invaluable. Their input helped us in our decision-making process," said Debora.
The Jesses credit the students as an integral part in helping them brand the image of Bozeman Alpaca Traders. Debora concluded, "We thoroughly enjoyed working with our interns. They were very committed to the project, coming to our business once a week to meet with us, discuss issues, and brainstorm. It was extremely helpful to us to have 'fresh eyes' looking at our business and providing valuable input. They brought energy to the project that was refreshing and contagious!"
For more information on alpacas or to visit Bozeman Alpaca Traders, LLC, please call the Jesses at 406.282.9111 or visit: www.alpacanation.com/bozemanalpacas.asp. Businesses interested in participating in the Business Management Practicum should contact instructor, Gary Bishop at gbishop@montana.edu or 406.994.4301.