2007 Beta Gama Sigma Inductions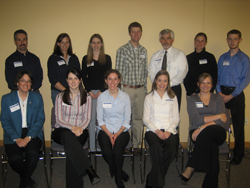 Nine students were recently inducted into Beta Gama Sigma
MSU College of Business Inducts New Beta Gama Sigma Members
Nine MSU College of Business student names were added to the prestigious list of Beta Gama Sigma (BGS) inductees. BGS, an international honor society started in 1913, provides the highest recognition a business student anywhere in the world can receive in an undergraduate or master program at a school accredited by The Association to Advance Collegiate Schools of Business (AACSB).
During the initiation luncheon held last Wednesday, students were welcomed by BGS President, Erin Ahlgren, and encouraged by VP of Programs, Kelly Rickard and VP of Memberships, Sarah Bergantine to live by the standards of Beta, meaning honor, Gama, meaning wisdom, and Sigma, meaning earnestness.
College of Business professor of management, Dr. Dan Moshavi, was honored with the Beta Gama Sigma Professor of the Year Award.
Following the Professor of the Year Award, Steve Wheeler, Gallatin Market Manager for First Interstate Bank, was recognized as the Chapter Honoree. Wheeler, who will be relocating to Billings, is a College of Business alumnus (1976). He addressed the students, offering advice on how to become a successful manager.
2007 BGS Inductees SENIORS: Stefanie M. Kauffman of Bozeman; Emily Quinn of Bozeman; Cheryl L. Rogers of Red Lodge; and, Nicole Luetolf of Bueron Switzerland.
JUNIORS: Mitchell J. Clark of Chester; Daniel Huffman of Billings; Joseph Ottoy of Miles City; Lindsey M. Pierce of Anderson, CA; and, Matthew J. Pugh of Kalispell.