BBC Executive Visits MSU College of Business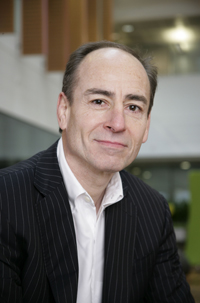 All responsible governments need to discover the world's perceptions of its countries and then develop a strategy for managing them, a top BBC executive told an overflowing crowd of students and faculty during a lecture at Montana State University yesterday.
Jonathan Howlett, worldwide director of advertising for BBC Global Channels, told the more than 200 people gathered for the annual David Orser Executive Speakers Forum that branding a nation can help a country develop into what it wants to be.
Branding is important, in part, because it is "a recognition that international events influence all our lives," Howlett said.
Powerful brands, such as McDonald's, Coca-Cola and Mickey Mouse, are instantly recognizable, he explained, and the same can be true of countries. For example, France is associated with chic, Great Britain with class, Sweden with design, Germany with engineering and Switzerland with precision.
Howlett said an increasing number of countries that are branded have built a competitive national identity, which is a strategy for making countries' reputations work for them rather than against them.
Nation branding takes into account six different things: tourism, exports, people, policy, culture and investment. A brand can be whatever identity works for the nation, as long as it is accurate, Howlett said.
"Stories and images are powerful ways of making a brand work," he added.
To brand itself, the nation must first assess its current image and identify why the image needs to change. Another step in the branding process is the attempt to influence others, through tourism, foreign direct investments and exports. A decision must also be made about what to promote, such as attractions for visitors and investors or a unique national story.
It's important to do that, Howlett said, because branding can affect where goods are bought and can also influence where companies choose to set up factories and market products.
Nations can become more competitive and powerful through branding, Howlett added. While coercion and incentives are examples of "hard" power, branding produces "soft," or persuasive, power, which is often underutilized.
The United States is recognized as a superpower, a dominant business leader, the holder of a largely unpopular foreign policy and the creator of a popular culture that includes Hollywood and MTV, said Howlett, who has talked about branding with presidents and prime ministers around the world.
Even though the U.S. is a superpower and dominant force throughout the world, its citizens cannot ignore branding.
Knowledge of world affairs is a required business tool, Howlett concluded, and well-informed citizens can affect public policy. Particularly in the U.S., he argued, citizens have a responsibility to understand the world, to make their voices heard and to manage the globalization process that makes countries compete.
Howlett is responsible for advertising and sponsorship revenue for BBC's commercial global channels. The BBC is a world leader in global news with a weekly reach of about 210 million people via television, radio and the Internet. Howlett previously was director of airtime sales for BBC World, the BBC's 24-hour international news and information channel. Howlett is also a board director of BBC World and travels extensively to visit global advertisers and their agencies.
Howlett was a David Orser Executive Speakers Forum speaker at the MSU College of Business. The forum is named for David B. Orser, a 1966 MSU graduate who started funding the program in 1988 in order to inspire MSU business students to pursue careers as innovative, responsible and ethical business leaders.
-Anne Pettinger, MSU News Servics