Team Takes First Place at Business Plan Competition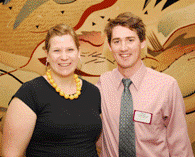 Sarah & David Greenshields Photo courtesy of the University of Montana
A Montana State University College of Business team nabbed first place in the 18th annual John Ruffatto Business Plan Competition at the University of Montana in Missoula, Montana. The competition showcases the entrepreneurial aspirations of college students across the state.
Sarah Greenshields (Business Management) and David (Media & Theater Arts), a husband and wife duo, competed against 25 other teams from across the state. They came away with first place in the Undergraduate Business Plan category, second place in the High Growth Potential division, as well as the People's Choice Award. Additionally, Sarah Greenshields won the Brandon Speth Award for exceptional passion and vision.
Joe Long, the team's advisor, commented on the current MSU College of Business program. "MSU COB students should feel very fortunate to have such a great program. It is not every undergraduate business program that offers its students the chance to present and think on their feet as very challenging questions are thrown at them in front of a business-savvy auditorium audience of hundreds."
The John Ruffatto Business Plan Competition, which has been held for 15 years, has become one of the premier entrepreneurial events in Montana. More than 40 businesses have been started by the competition's participants, seven of the 40 in the last two years.
This spring, 26 teams with viable business ventures sent in their business plans to participate in the event. The competition was fierce and only 15 of the 26 teams moved on to the semi-final round where teams were asked to make a 15 minute presentation and field 10 minutes of continuous questions and answers. Semi-finalists were judged by a prestigious panel that ranged from venture capitalists and bankers to successful entrepreneurs and corporate executives. Over 250 business professionals and community leaders were present to watch these teams compete this year.
The Greenshields' company, Genre & Mode, specializes in handbags, organizers and insulin pump carriers for diabetics. As a diabetic, Sarah utilizes these products and has brought a more personal and fashionable touch to their design. The products currently on the market are designed by medical device engineers and have a very clinical appearance. Sarah stated that Genre & Mode's products are so fashionable that customers who aren't diabetic will be purchasing these bags. The marketing opportunities for Genre & Mode products were made very apparent during the competition's final round when Sarah pointed out the appeal for Genre & Mode products. When asked about the current competition and whether or not their products were clinical or fashionable, Sarah paused momentarily, looked back at the audience with a huge smile and said, "Their bags (the competitors) are bright red and have a big red cross." The audience broke into laughter and applause.
Several prototypes of these products have already been designed and sewn. They are currently being market-tested by diabetics. Joe Long believes that Genre & Mode will succeed. "Sarah is very competitive and driven. I have confidence that this venture will succeed." With the market wide open and production beginning late 2007 and early 2008, the future for Genre & Mode looks bright.