Apply for the Lithuania Study Abroad Program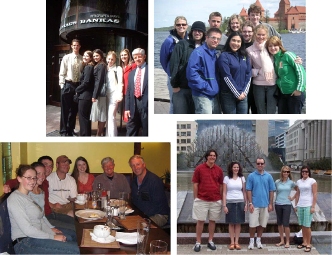 Where: Vilnius, Lithuania (Eastern European/Baltic Country)
When: May 11 - May 28, 2008 (with great opportunities for additional travel)
Who: Four or Five College of Business students and two faculty
How: Participants will receive a scholarship grant of at least $600, to cover a portion of the air transportation and will be responsible for the additional cost of air transportation plus meals lodging and personal expenses in Europe. The estimated additional costs per student are $1100.
Program: Participate in a two-week evening seminar in strategic management together with Lithuanian MBA program students at the International Business School of Vilnius University. Students have daytime opportunities to visit local companies, participate in activities with management consulting organizations and visit cultural and historic sites in the country. In addition to the close classroom interaction with the Lithuanian students, the project will give the students the opportunity to examine business practices in a former communist country that has worked hard to gain admission to the European Union (EU).
The Lithuanian exchange is sponsored in-part by the Dorothy L. Ballantyne Fund for Education.
Deadline: Applications due February 18, 2008
Contact: For more info or to apply, contact Dave Foster in Reid 344 or dfoster@montana.edu