Alzheimer Recognized for Work with High School Business Programs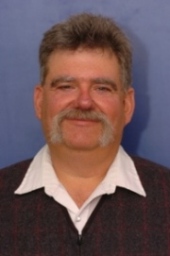 Tim Alzheimer, College of Business adjunct assistant professor of finance and former commercial bank officer, was awarded the 2007 "Most Outstanding High School Economics Program" from Business Simulations, Inc. in Pompano Beach, Florida, in April 2008. This award recognizes Alzheimer's administration of the High School Business Challenge Simulation for the Montana Council for Economic Education.
The Business Challenge is an eight-week simulation, where students manage a compact disc video player manufacturing company. Business decisions are made weekly, with each decision representing one quarter in the business lifecycle. Students are required to make decisions in areas such as plant size, amount of production, product price, advertising and human resources. The team with the highest overall stock price is deemed the "winner."
This simulation, used in high schools across Montana as well as other states across the country, is one of several separate business simulation applications created by Business Simulations, Inc. Each year, the company selects one secondary and one post-secondary teacher and program that they believe has developed the most outstanding business and economics program by using their software, for the award. This award is a great honor and Dean Richard Semenik commends the efforts of Alzheimer and the high school teachers he works with.
"Under the leadership of College of Business faculty member Tim Alzheimer, the High School Business Challenge has proven to be one of the most successful and impactful developmental economic education programs in the state," said Semenik. "Literally thousands of high school students have been able to participate in a sophisticated, hands-on learning experience that would otherwise not be available to them."
Montana's Business Challenge program is sponsored by the Montana Chamber Foundation. The Montana Council on Economic Education administers the program. Alzheimer plays an integral role in this program, providing all teacher training and simulation demonstrations across the state. In addition, Alzheimer personally analyzes all student team simulation decisions.
The Business Challenge began in eight schools around the state in the spring of 2000, with approximately 186 student participants. The program has expanded exponentially, with more than 60 junior high and high schools and nearly 1,600 students now participating in the program.
When asked what this award means to him, Alzheimer says that it shows students and teachers are embracing his efforts in the field of economic education, as evidenced by the increasing number of participants in the program. "Our country is now, and will continue to face many serious economic issues. In ten years, today's students will be an integral part of our economy. I would rather they be a part of the solution, rather than a part of the problem," Alzheimer states.
Alzheimer finds that having students learn basic economic fundamentals is very rewarding in itself. He quotes Jon Huntsman, Jr. saying, "Economic prosperity and quality of education for our children are inexorably linked." Alzheimer goes on to says, "This is why I teach, and am so passionate about what I do."