Master of Professional Accountancy Hooding Ceremony a Memorable Event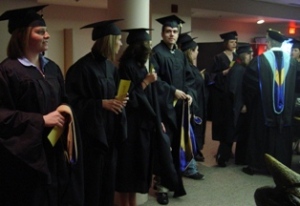 Students Line Up for the Hooding Ceremony
On Friday, May 9, about 200 people gathered at the Museum of the Rockies to celebrate the graduation of the College of Business' Master of Professional Accountancy (MPAc) students. Marc Giullian, associate professor of accounting, welcomed family and friends attending the ceremony, followed by Rich Semenik's Dean's Address, which touted the students' achievements this past year. Afterwards, Anne Christensen, professor of accounting, gave a brief presentation about the history of the hood and its significance before she and Christie Johnson, associate professor of accounting proceeded with the hooding of

the students.

The excitement was apparent on the students' faces as they received their hoods. After the hooding ceremony, Tina Dykstra, MPAc class speaker, thanked her professors, addressed her fellow peers and talked about the graduating class academic journey. She credited the extraordinary accounting faculty with the transformation most of the graduates experienced--a change from young students struggling to make sense of debits and credits, financial statements, and journal entries to mature professionals capable of understanding complex accounting theories, tax returns, and passing the CPA exam.

Dykstra stated, "Today, I believe that we can all say we have a future and a hope. This new chapter in our lives is a beautiful road stretched out before us. From where we began, to where we are today, we could not have done it without the support of you, our friends and family. We would not be able to walk across this stage today and tomorrow, to wear our hoods without the many teachers who have guided us along the way. From the depths of my heart, I would like to thank each and every person here for taking part in this incredible transformation." The emotional and touching speech deeply affected the audience as sniffles were heard throughout the auditorium before those attending erupted into thunderous clapping.

A slideshow introducing all the newly hooded students was shown after Dykstra's presentation. Closing remarks were given by Micki Munro, adjunct instructor of accounting. She gave the graduates five pearls of wisdom, four of which she attributed to a great teacher and constant companion, Sophie, her five year old African grey parrot. The pearls were: Attitude is everything; Look at challenges from all perspectives; Quack, Quack (teamwork); Don't say anything you don't want repeated and Continue to make a difference.

The hooding ceremony was an unforgettable event both for the students, their families and friends in attendance. It marked the closing of one chapter of the students' lives and the opening of yet another.