Annual Family Business Day to be held on Friday, September 26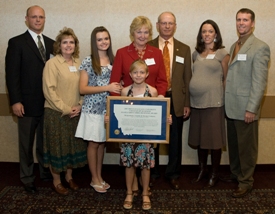 2007 large business category winner
The 15th Annual MSU College of Business State Farm Insurance Family Business Day Program will take place at the Holiday Inn, in Bozeman, on Friday, September 26.
Each year a number of businesses, ranging in size from fewer than 10 employees to more than 50 from diverse industries, are nominated for awards. This year is no exception with small and large business winners from across the state who will receive their awards during the Family Business Day luncheon.
This year's Family Business winners in Montana are: St-Char-Ro Floral & Event Rental of Ronan, in the very small business category (fewer than 10 employees); Owenhouse & Associates of Bozeman, in the small business category (10 to 30 employees), Wyo-Ben, Inc. of Billings, in the large business category (more than 50 employees) and Montana DataSure of Bozeman, in the new business category (under 10 years). Hofeldts Livestock of Chinook won the Judge's Special Recognition Award.
Phil Rogers, an adjunct instructor of marketing in the College of Business, will be the guest speaker for this event. His seminar, Thrive in Tough Times: How Your Focus is Your Future, presents an overview of taking control of your business. Time will be spent on exploring ways to control expenses, grow sales and build profit margins. A portion of this presentation will be a hands-on workshop focusing on delivering outstanding customer service and effectively responding to customer demands.
"It is wonderful to be able to recognize exemplary family businesses that have all shown a commitment to customer service, family values and diversification to satisfy the needs of their markets, often in challenging situations," said Nancy Dodd, director of the Montana State University College of Business State Farm Insurance Family Business Program and an MSU professor of management. "Family businesses are central to the economic vitality of Montana, and the businesses that are honored are perfect examples of why and how family businesses contribute to our communities, our state and our nation."
The MSU College of Business and State Farm Insurance, in honor of Robert Jaedicke, host the program. Stockman Bank underwrote the awards, with additional support for the program provided by the Montana Chamber of Commerce.
The registration fee to attend the entire event is $25, which includes a continental breakfast, lunch, the seminar and seminar materials. Participants who wish to attend just the lunch and awards ceremony pay $20. The cost to attend only the seminar is $10. For more information, or to make your reservations, call Karen Beach 994-6796 or e-mail familybusiness@montana.edu.