Five Montana Family Businesses Recognized for their Achievements September 26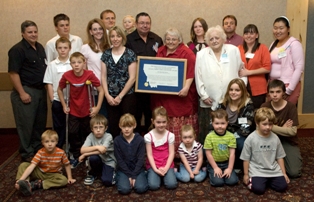 St-Char-Ro Floral & Event Rental with award
More than 70 business owners and students attended the annual 2008 Montana State University College of Business State Farm Insurance Family Business Day, held on Friday, Sept. 26, at the Holiday Inn in Bozeman.
The event began with a business seminar, Thrive in Tough Times: How Your Focus is Your Future, led by Phil Rogers, a COB marketing instructor. Rogers discussed ways to control expenses, grow sales, build profit margins, deliver excellent customer service and respond to customer demands. The highly engaged audience members provided their own success stories and shared many great ideas and business suggestions with each other.
An awards luncheon followed the seminar, featuring businesses from Ronan, Bozeman, Billings and Chinook as winners of the 2008 Montana Family Business Awards. The 2008 top family businesses in Montana are: St-Char-Ro Floral & Event Rental of Ronan, in the very small business category (fewer than 10 employees); Owenhouse & Associates of Bozeman, in the small business category (10 to 30 employees); WYO-BEN, Inc. of Billings, in the large business category (more than 50 employees); and Montana DataSure of Bozeman, in the new business category (operating 10 years or less). The Hofeldt Family of Chinook won the Judge's Special Recognition Award.
St-Char-Ro Floral & Event Rental, winner of the very small business category, was named for the towns of St. Ignatius, Charlo, and Ronan. Jane Gardner started the business in 1975 and the whole family eventually becoming involved. St-Char-Ro provides services to families through all major life events--births, marriages, and deaths. They also work with the Salish Kootenai College and Ronan and Charlo High Schools to provide floral arrangements for their graduation ceremonies. The business and communities it serves rely on each other through both joyous and difficult times. Family Business Day coincided with owners Dennis and Janet Gardner's 40th wedding anniversary, so nearly 30 people from their family, who also participate in the business, were in attendance.
Owenhouse & Associates, a family entertainment business owned by Jay & Susan Owenhouse, won the small business category. Jay has been fascinated by magic since he was a boy. He pursued his dream to become a professional magician after graduating from MSU, starting the business in 1990. The Owenhouse family now tours the country, performing about one week per month. As both a family and business, the Owenhouses have made a big impact on the Bozeman community. Owenhouse & Associates employs an average of 15-20 MSU students throughout the year and provides a unique learning environment for the students. The Magic of Jay Owenhouse has also performed between 800-1000 benefit performances and raised more than $1 million for charity.
Winning in the large business category, Wyo-Ben, Inc. began as a partnership and developed into a family business centered on mining, milling and distributing bentonite. Over the years, Wyo-Ben slowly transformed into the strong, diversified company and expanded into other industries and alternative product applications ranging water and mineral exploration to additives for cosmetic and pharmaceuticals. This company preserves the company s and the family s interests in an unusual way, through the establishment of a Board of Directors and Family Council. Wyo-Ben Inc. is a major supporter of the Billings community, contributing to many organizations including the MSU Billings College of Technology, Rocky Mountain College, Yellowstone Art Museum and ZooMontana.
The new business category winner, Montana DataSure LLC, founded and operated by Pete and Coreene Masse, provides off-site data back-up for other businesses, non-profit organizations and individuals. Montana DataSure has sponsored the Bozeman Chamber of Commerce Business Expo luncheon keynote speaker and is scheduled to offer a "Lunch and Learn" workshop on data storage later this year. The Masse family also serves the community as a licensed foster home for the state of Montana, and so far, 17 children have been placed in their care over the last few years. As new business owners, the Masses look to participate in future business leadership opportunities.
The Judge's Special Recognition award was given to the Hofeldt Family. An original homesteading family in the Bear Paw Mountains south of Chinook since the late 1800s, they have carried on the family business of ranching and farming in that area for more than 100 years. This business has been passed on through five generations and has long contributed to the community by establishing some of the first businesses and schools in the area. The Hofeldt family members are neighbors, forming a tight community, and share in the responsibilities of being good land stewards.
John Baucus of Sieben Ranch commented on how tough it was to select winners out of the businesses nominated this year. "While filling in an application takes time, judging is more difficult. The fact that a business was submitted indicates it meets family and business goals. Each business owner puts in the extra hours and bears the stress to meet deadlines, make payroll, and maintain or enhance family values. Any employer who is honest, treats employees like family, and is fair in his or her relationship with customers is a winner."
The Montana Family Business Program is in its 15th year. The MSU College of Business and State Farm Insurance, in honor of Robert Jaedicke, host the program. Stockman Bank underwrote the awards, with additional support for the program provided by the Montana Chamber of Commerce.