College of Business Recruiting Fairs have Record Attendance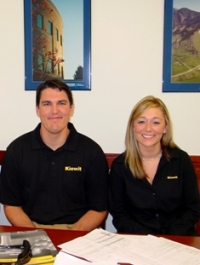 Peder Jensen and Jodi Thelen, COB alumni and Kiewit recruiters
On Wednesday, October 1, businesses from across the country met with more than 300 College of Business students for the annual Meet the Recruiters Fair and Meet the Accounting Recruiters Fairs. The Meet the Recruiters event is co-sponsored by MSU Career Services and Student Employment and the Accounting event is sponsored by Beta Alpha Psi. Business cards were exchanged while resumes were handed over and interviews were set up between students and potential employers. The sea of professionally dressed students was reminiscent of Wall Street.
More than 50 companies from across the nation were represented at the two highly energized events, displaying banners and providing additional information about their companies. The positive effects from previous recruiting fairs were apparent, with some College of Business alumni now serving as company recruiting representatives.
Students were able to mingle with recruiters from a variety of companies -- small to large, local, regional, international, for profit, and non-profit. Opportunities for students to find a great job or internship match were abundant.
This year's recruiters included companies such as Kiewit Pacific, Boeing, Northwest Farm Credit, RightNow Technologies, State Farm Insurance, NAVSEA, PrintingforLess.com, FBI, Northwestern Mutual Financial Network, and Gallup.
The range of companies was also very diverse at the Meet the Accounting Recruiters Fair. Not only did the "big four" accounting firms of Deloitte, Ernst & Young, KPMG and PriceWaterhouseCoopers attend, but a large number of local and regional firms attended the event including Anderson ZurMuehlen & Co., Galusha Higgins & Galusha, Joseph Eve, Junkermeier Campanella Clark & Stevens and Rudd & Company. Firms based in Idaho, Alaska and Nevada were also present.
Current College of Business students found the experience rewarding and beneficial. Many students attended to become acquainted with the different firms and worked on developing their professional skills, while others actively pursued internships and future employment. Students were also able to utilize these skills when they attended the MSU Career Fair the next day.
For more information about the MSU College of Business Meet the Recruiters Fair, please contact Linda Ward at 406-994-1995 or lward@montana.edu. Information about MSU s career fair can be found at http://www.montana.edu/careers/events/student_info/fairs_events.htm