CoB Alumnus Honored with Blue & Gold Award during Homecoming
CoB Alumnus Honored with Blue & Gold Award during Homecoming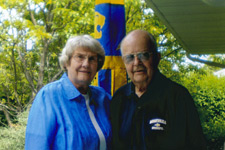 Each year, the Montanan State University (MSU) Alumni Association honors MSU graduates during Homecoming at the President's Luncheon with its highest awards, the Blue and Gold Award and the Alumni Achievement Award.
Bill '56 and Jean (Painter) Bradford '57 of Billings are the recipients of the Blue and Gold Award along with fellow MSU alumni Dr. Bill '52 and Marj (Johnston) Hunt '56 of Bozeman.
The Bradford's lives have always been about serving others – both professionally and personally. Billings and the State of Montana have reaped the rewards of such dedicated citizens. Bill spent the majority of his business career working for government agencies and Jean worked for two non-profits. Their volunteer time included work with the Boy Scouts, DeMolay, Scottish Rite-Masonic organization; Yellowstone County Council on Aging, Billings Chamber of Commerce, American Heart Association, Junior League, Rocky Mountain College Institute for Peace Studies, Job Connections Inc., and St Luke's Episcopal Church. In additional to all their local volunteer efforts, they have also made time to enthusiastically support their alma mater – Montana State University. Bill served on a Greek advisory committee and is a member of the Quarterback Club. Jean served on the President's Advisory Council for three separate University presidents and also served on the Statewide Advisory Board for MSU Athletics. Their financial support also spans campus wide. They are the ultimate sports fans and recruiters for Montana State. Both of their children graduated from MSU and this Fall, the legacy continues, as both of their out-of-state granddaughters will attend Montana State.
The Blue and Gold Award is the most prestigious award granted by the MSU Alumni Association. It honors those who have rendered lifetime service or who have brought national or international distinction to MSU or to the state of Montana. Candidates must have achieved prominence through service to one or a combination of: profession, family, country, world, university, philanthropy or humanity. Recipients of the Blue and Gold Award are recommended by the MSU Alumni Association Board of Directors to the president of the university.
For more information on Homecoming 2011 or the Alumni Award Recipients, please see the MSU Alumni Association website: www.alumni.montana.edu/events/homecoming.