Jake Lewendal: Making His Mark
Jake Lewendal: Making His Mark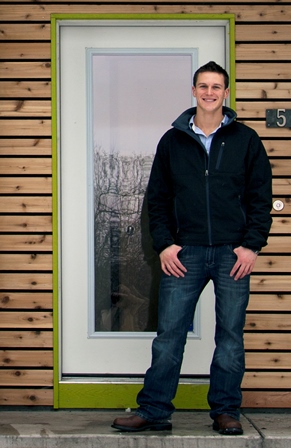 It's not often that a person has a clear vision of how his contribution could actually change society or the world. Jake Lewendal, who graduated from the College of Business (CoB) in May, 2011 with a marketing degree, is one of those people. Jake has been a part of his family's business "Anders Lewendal Construction" since he was 12. His role back then was to sweep up the construction dust and debris on job sites, not exactly glamorous work, but it instilled a strong work ethic.
Although Jake grew up around construction sites, he didn't catch the building bug until his father promoted him to superintendent and handed over the completion of several construction projects, when Jake was 18 and a sophomore at MSU.
"My parents took a month-long trip to Italy, and we had three condos to finish," recalls Jake. "My dad put me in charge of making sure those condos were completed, which involved overseeing the scheduling of subs, paying attention to our quality control, and other site-specific details. After that experience, I was hooked."
Jake discovered that he was a natural fit for managing the processes and organization involved in construction, especially the human element. He excelled at scheduling the work, assigning workloads to the right people at the right time, and coordinating the entire construction effort to ensure a top-quality product.
"I loved the experience of managing people and tasks to accomplish a goal," explained Jake. "I learned the importance of assigning the right tasks to the right people, and delegating effectively in order to make sure that each step in the process was completed properly, in the correct order, with full attention to detail to ensure high quality."
In 2008, as the building industry in Bozeman began to feel the effects of the economic downturn, Jake spearheaded a multi-unit project for Anders Lewendal Construction, where he served as superintendent in the building of 20 units in Northwest Bozeman. As the condos neared completion, they actively marketed the project through a simple website for prospective buyers, single professionals and young couples to view the condos, and advertised with radio spots. This was the company's first marketing venture.
"That first marketing effort really helped us see the need for targeted marketing to attract buyers," said Jake. "My marketing training in the College of Business helped me put the big ideas in my head down on paper and taught me how to go forward and turn these ideas into a reality."
The All American Home and Sustainability
Anders Lewendal Construction recently completed The All American Home in Bozeman, in an effort to create jobs and increase awareness in the building industry of the impact American-made materials can have on the economy. Through an American-made database of products, any builder in the nation can join in supporting American jobs throughout the supply chain, by slightly altering their purchasing habits.
"We're encouraging builders to change their supply selections by reallocating five percent of their purchases to American-made building products," explains Jake. "If every builder in the U.S. adopted this change, we could support or create 220,000 jobs without additional tax spending."
Jake was recently certified as a Green Professional through the National Association of Home Builders' Green Council. With this additional training, he hopes to contribute to Anders Lewendal Construction's continued efforts to use environmentally sustainable building practices and renewable energy sources in its homes. These building practices are designed to improve energy efficiency while saving home buyers' money through energy savings, improving safety and health, adding comfort and increasing durability.
Nearly 20 percent of energy pumped into the average American home is wasted, usually due to inefficiencies in the construction of the home, especially windows, doors, and insulation. Jake is committed to building homes that eliminate this wasted energy and save homeowners money on heating and electricity bills over the life of their homes.
"With improvements in energy efficiency, homeowners will realize real savings and a cleaner living environment," said Jake. "In addition, these improvements spur new innovations in heating and ventilation systems which, in turn, make these features more affordable for builders and homeowners alike."
New Initiatives
Anders Lewendal Construction is expanding its five percent reallocation model for builders to include all U.S. households, and if they are successful in getting this message across, the results could be staggering. For example, if all U.S. households, based on an average yearly income of $50,000, reallocated five percent of their spending in one year to American-made products, Americans would reinvest $150 billion in the U.S. economy, which would create three million jobs.
"We really want to get the word out that by changing purchasing habits, Americans can have a huge impact on the economy and our overall job outlook," said Jake. "Our country is number one in the world in manufacturing and produces 21 percent of the world's products. By changing our purchasing habits slightly, we can have a dramatic impact."
Anders Lewendal Construction also plans to build a passive home in Bozeman. Passive construction relies on the home's design, orientation, energy-efficient heating and ventilation systems and state-of-the-art insulation products to maximize its overall efficiency.
"We are setting very stringent goals for ourselves, and will be able to test and implement these goals using rating systems that are in place to measure a building's efficiency," said Jake. "Through collaborations with experts in heating, ventilation, and insulation, along with architects and the resources at MSU, we hope to create a home that maximizes its energy savings while maintaining its cost effectiveness, bringing a safe and energy efficient home to the average American family."
Jake plans on expanding into other industries during his career, but will always be a part of the building industry, and continues to learn from the strong modeling provided by his father and the experiences and opportunities afforded him through the family business. His strong attention to detail at every step in the home building process will help ensure that Anders Lewendal Construction continues to provide high-quality, sustainable homes for future generations.