Students and Faculty Honored During Graduation Celebration
May 15th, 2011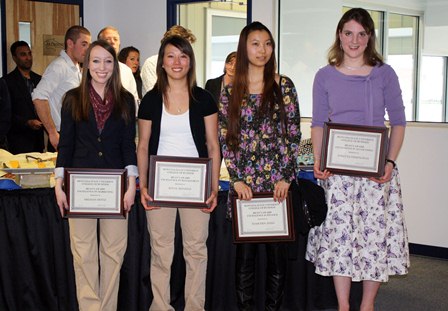 For the first time, the College of Business (CoB) held a Graduation Celebration for all graduating seniors and their families, as well as CoB faculty on Friday, May 6 in the Stadium Club on the 3rd floor of the football stadium. Many of the Colleges held these celebratory "Meet and Greets" in addition to the newly structured Commencement Ceremony the next day.
Four students, one in each option, were awarded the Dean's Award for Excellence, as chosen by the faculty.
Accounting Option: Loretta Hemingway
Finance Option: Xiachen Zhao
Management Option: Sonja Jennings
Marketing Option: Meghan Doyle
Six professors received honors during the ceremony, based on outstanding performances in teaching, research and service. The awards, provided through endowment programs, give faculty members financial resources for scholarly and pedagogical development.
The Nopper and Loendorf awards are bestowed at the discretion of the dean. Students choose their most influential faculty member for the Bracken Student's Choice Award and faculty members nominate their colleagues for the Dean's Research, Teaching and Service Awards and the Code of Excellence Award.
Mike Gold, adjunct instructor of marketing, was the recipient of the Thomas Nopper Excellence in Teaching Award. This award is given annually to a faculty member who has made significant contributions to the teaching mission of the CoB.
This year's recipient for the Joe and Sharlene Loendorf Excellence in Teaching Award was Mike Kroff, assistant professor of marketing.
CoB colleagues also selected the following faculty members for special performance recognition awards:
Dean's Award for Outstanding Performance in Teaching:
Steve Ault, adjunct instructor of accounting
Dean's Award for Outstanding Performance in Research:
Angela Woodland, assistant professor of accounting
Dean's Award for Outstanding Performance in Service:
Anne Christensen, professor of accounting
Susan Dana, associate dean, was voted by her peers to receive the 2010 Code of Excellence Award. This award recognizes the recipient's commitment and positive effect on the lives of all members of the CoB community.
The CoB senior students voted on the most prestigious faculty award. They selected Bill Brown, adjunct instructor of management, as the recipient of the Gary K. Bracken Student's Choice for Excellence in Teaching. During the celebration two of his students, Dylan Whitcraft and Chelsey Wilson were able to honor Brown on behalf of all the seniors.