The MSU SIFE Club Competes and Excels at Atlanta Regional Competition
The MSU SIFE Club Competes and Excels at Atlanta Regional Competition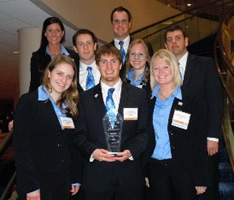 The Montana State University (MSU) Students in Free Enterprise (SIFE) Club has had a record year of projects and recently competed in the Atlanta Regional Competition, earning first runner up in their league.
Each year the MSU SIFE Club works hard to put on events that focus on each of SIFE's categories (market economics, success skills, entrepreneurship, financial literacy, environmental sustainability and business ethics) in order to qualify for the regional competition. The team is then judged on their presentation of these events and how successfully the teams developed and executed a strategy to ensure the long-term sustainability of their team and educational programs.
This year, the SIFE Club focused in on sustainability within the community. The students put on three large scale outreach projects to help increase economic growth in Bozeman and worked with Big Sky Skydiving, the local Economic Development Council, and Family Promise.
Each of the groups that SIFE worked with had varying needs. Students worked with Big Sky Skydiving, a start-up skydiving company, on a marketing strategy. In just three months, there was an estimated an increase in revenue of 250%.
SIFE then took part in organizing Bozeman's very first economic summit, with renowned author Dan Ripke as their guest speaker. He brought the concept of economic gardening, an entrepreneurial alternative to the traditional economic development practice of recruiting industries, into Bozeman. A round table discussion with Bozeman business owners followed Ripke's talk. The SIFE team helped draft and analyze the discussion questions for this event.
Participating in Lowe's Community Improvement Challenge, the SIFE Club received a grant that allowed them to purchase new carpet and energy efficient appliances for Family Promise. Family Promise of Gallatin Valley is a nonprofit organization that helps local homeless families with children. This local organization is based on the national Family Promise structure and is over 80% successful in getting families into stable housing and effective employment. The SIFE students spent time volunteering for Family Promise as meal hosts and helped plan life skills workshops. These workshops give families the skills needed to get back into the workforce.
After completing these major projects and keeping up on seven on-going club projects, the SIFE team entered the Atlanta Regional Competition in April. The team consisted of eight members from the club: Elliot Rueb, Jamie Pearce, Skyler Hager, Zach Curtis, Justin Zarcor, Allison Hunthausen, Katherine Snapp and Kaley Bjornsen. Gary Bishop, adjunct instructor of management and the SIFE Club advisor, also attended the competition and was a valuable asset to the team.
The club reported their accomplishments for this year in a 24 minute presentation to a panel of 15 judges and a conference room full of spectators. The MSU SIFE team was the first runner-up in their league, competing against larger schools including Kentucky State University (Frankfort, KY), D'Youville College (Buffalo, NY) and the University of Georgia (Athens, GA). This is the highest ranking MSU has earned at a regional competition since the club was started. Overall, 62 teams from across the United States participated at this regional competition. The team was very excited to bring home a trophy and increase awareness for the MSU SIFE Club.
Elliot Rueb, president of the MSU SIFE Club was thrilled with the competition results. "This year's SIFE club has been exceptional. Without all the effort put forth by all of its members, we would not have been this successful. We grew from five members in the club to 25 throughout the course of a semester. With this growth, we were able to compete with large schools like the University of Georgia and Auburn. It was a very rewarding experience and I couldn't be more proud to finally bring home a trophy to show off after being with MSU SIFE for three years. We can only grow from here and hopefully improve again next year and make it to the world cup."
Gary Bishop was also very pleased with the outcome. "This was a hard working student team, whose focus was doing the very best they could. These eight students were all totally dedicated to making as good a showing as possible in faraway Atlanta, Georgia, for Montana State University. I was very proud of their achievement, bringing back to the school a trophy for 'First Runner-up' in their league. They truly deserved it!"
About SIFE
SIFE, an international non-profit organization, works with leaders in business and higher education to mobilize university students to make a difference in their communities while developing the skills to become socially responsible business leaders. Participating students form teams on their university campuses and apply business concepts to develop outreach projects that improve the quality of life and standard of living for people in need. An annual series of regional and national competitions provides a forum for teams to present the results of their projects, and to be evaluated by business leaders serving as judges. National champion teams advance to the prestigious SIFE World Cup. In addition to the community aspect of the program, SIFE's leadership and career initiatives create meaningful opportunities for learning and exchange among the participants as well as the placement of students and alumni with companies in search of emerging talent.