Accounting student, Molly Zander, receives scholarship for awareness of fraud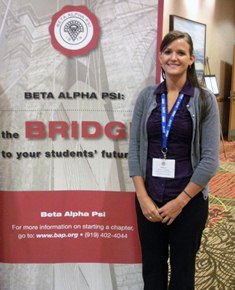 The Association of Certified Fraud Examiners (ACFE) awards 30 U.S. and international student scholarships each year. College of Business student Molly Zander will receive a $2,500 Ritchie-Jennings Memorial Scholarship, based on her overall academic achievements and her essay explaining her awareness of how fraud may affect her career. She will appear in an issue of Fraud, the magazine of the ACFE and be given a one-year ACFE Student Membership.
Zander, a senior from Great Falls, was one of four students to receive a $2,500 scholarship. One $10,000 scholarship, two $5,000 scholarships, and 23 $1,000 scholarships were also given. Approximately 300 national and international students competed for the awards. The list of scholarship winners are listed on the ACFE website here with more information about the scholarship here.
Bonita Kramer, CoB professor of accounting, encouraged Zander to apply for the scholarship after instructing her in ACTG 328 (Intermediate Accounting II) and Zander is currently a student in her ACTG 521 (Advanced Auditing) class. Kramer also wrote one of Zander's recommendation letters.
Kramer was thrilled that Molly received one of the higher amount scholarships. "She is absolutely outstanding in so many aspects that I knew she would be a competitive candidate for one of these scholarships, so I visited with her last fall and told her about this opportunity and encouraged her to apply. She needed a few letters of recommendation and asked me to write one, which I was happy to do."
Students from the MSU College of Business who received $1,000 Ritchie-Jennings Memorial Scholarships in previous years include Jennifer Hill (2002-2003), Erin Mohr (2003-2004) and Joey Ottoy (2008-2009), Sophie Mumford (2010-2011).
The ACFE is an anti-fraud organization that works to reduce business fraud worldwide and inspire public confidence in the integrity and objectivity within the profession. For more information, go to www.acfe.com.