Accounting Students Place Third in Best Practices Competition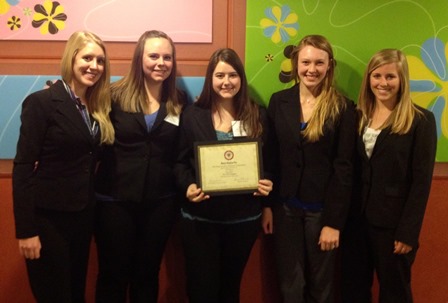 The Beta Alpha Psi (BAP) team, comprised of five Montana State University (MSU) College of Business (CoB) students (Left-Right): Alyssa Sipes, Caitlin Kilroy, Renee Waterland, Anna Adolphson, and Amanda Powell, traveled to Denver, Colorado on March 22-23 for the annual BAP Rocky Mountain Regional Conference.
They competed and placed third in the Best Practices Competition in the "Inspiration" category. The team developed an inspirational, creative, and fun "Careers in Accounting" presentation geared for high school seniors in under-served communities. The CoB students competed against accounting students from University of New Mexico, Utah Valley University, BYU, University of Utah, and Fort Lewis College.
With the contributions of the Alderson family going towards students participating in these competitions, CoB students have been able to compete against other universities, which provides them with experience and helps them develop a confidence about their business education and knowledge gained through the CoB.
For more information about Beta Alpha Psi, please visit their webpage http://www.montana.edu/cob/Accounting/club.html.
For more outstanding student achievements, please click here.