CoB Accounting Student is Honored with Top MSU Award for Community Involvement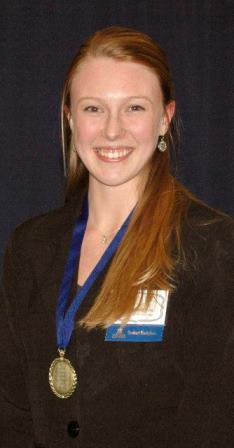 Seven Montana State University seniors have won the 2013 Torlief Aasheim Community Involvement Awards, the university's top award for student service.
College of Business senior, Anna Adolphson from Hamilton, Mont., is one of the recipients. She is an accounting major and a member of the Montana Society of Certified Public Accountants. She has also been an officer in Beta Alpha Psi, a national accounting club, and she co-taught MSU's freshman business seminar as a student associate. Adolphson has volunteered through VITA, a program that is designed to assist people who may find it difficult to pay for tax preparation services. She has also participated in Relay for Life.
Anna Adolphson, Nicolais Cuyle, Jamie Inglis, Shannon LaRocca, Sydney Reichhardt, Esther Yoon and Michael Brent Zundel are the winners of the award, which recognizes a senior student from each college at MSU who, in addition to excelling academically, volunteers on campus and in the community. The award was named for the late MSU alumnus Torlief "Torley" Aasheim, former director of the Montana Cooperative Extension Service and a member of the class of 1937.
For more information about this award, please contact Kerry Hanson, (406) 994-7620 or kshanson@montana.edu, or Malaree Purcell, (406) 994-2522 or malaree.purcell@montana.edu.
For more outstanding student achievements, please click here.