MSU Students Team Up To Take Third Place in Business Plan Competition
MSU Students Team Up To Take Third Place in Business Plan Competition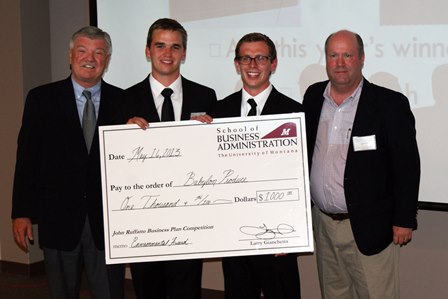 Three Montana State University (MSU) teams qualified for, and competed in the John Ruffatto Business Plan Competition, in Missoula, on May 16. The three teams represented MSU well, presenting their business plans in front of hundreds of people including venture capitalists and investors, business leaders, and other business students from around the state. Alex Crosby and Tim Reusch, both students in the Jake Jabs College of Business and Entrepreneurship (JJCBE), presented their business plan for Babylon Produce, a hydroponic heirloom tomato facility, and came away from the competition with several awards. They placed third, out of 37 undergraduate and graduate teams. They also go to Denver, Colorado as one of six finalists for the 12th Annual Bard Center for Entrepreneurship Business Plan Competition on June 18.
The other two teams also presented well at the competition. Blaine Towels, pursuing a B.S. in film making, and minoring in entrepreneurship and small business management, presented a plan for "Magpie," a fictional movie about the Bakken Oil Fields. Don Powell, pursuing a B.S. in psychology, and minoring in entrepreneurship and small business management, pitched his idea for SIR, a rental property software company.
Crosby and Reusch, with a compelling business idea and persuasive presentation, also took home the People's Choice Award, given to the team with the highest score from the audience, as well as the Environmental and Social Responsibility Award. The latter is awarded to the team that best incorporates the concepts of social responsibility, sustainability, and environmental conscientiousness. The winner of this award demonstrates the opportunity for economic prosperity with a business model that includes a focus on both profitability and these social and environmental concerns. In addition, Reusch was presented the Brandon Speth Award, which recognizes the individual student who exhibits the passion, poise, and charisma to successfully launch a new venture. In all, the duo walked away with $5,000.
Both Crosby and Reusch were a part of the JJCBE's BMGT 491 Advanced Business Planning course, taught by Tim Lolatte. The two students met each other in class; both were interested in renewable and sustainable means of doing business, which led them to team up for the business plan project. Reusch, currently pursuing a masters in Health and Human Development with an emphasis on Sustainable Food Systems, and Crosby, an undergraduate marketing student, with a minor in entrepreneurship and small business management and finance, teamed up to form Babylon Produce.
The concept behind Babylon Produce is to build a year-round, hydroponic heirloom tomato production facility that will fulfill the demand for locally grown, high quality produce. This facility would provide locally grown, fresh tomatoes during the long Montana winter months, using hydroponic growing techniques. Reusch says the idea came from his personal interests in hydroponics and wanting to eat locally here in Montana. He enjoys fresh vegetables and believes there is an incredible opportunity to use this technique to meet the need for locally grown produce year-round. This idea was the basis for the business plan he and Crosby presented.
Lolatte's course was key in preparing Reusch and Crosby for the competition. Reusch said, "It [the course] helped us combine our areas of competence into a comprehensive plan that illustrated in-depth analysis of almost every facet of the business. We also had the ability to learn a lot from the guest speakers who came in to talk about what they do, and they listened to our ideas and gave us a lot great feedback to refine our ideas and turn them into feasible business plans."
Ultimately, all of their preparation led to the competition, which took place after the semester's end. Crosby and Reusch described the competition as interesting, challenging and full of excitement. They also said the competition was very long, intense, and caffeine-infused, and a proverbial "emotional rollercoaster." Crosby and Reusch enjoyed meeting the other competing teams and believed they received a very warm welcome and well wishes for their success from the other teams. Crosby and Reusch said that the opportunity to network with and receive feedback from the competition judges was incredibly valuable to them in terms of identifying the areas of strength and improvements to be made to their business plan.
Lolatte said that the evening of the competition, the three participating MSU teams displayed posters of their business plans. In a period of two hours, between 200 and 300 people saw their business ideas and each team talked to at least five people who were interested in potentially implementing their ideas and wanted to continue the conversation over the next several months. Lolatte added, "The John Ruffatto Business Plan Competition was a life changing event for Babylon Produce. With the awards they received and contacts that were made, it solidified that they had a sound business plan and their idea could turn into a future business."
Crosby and Reusch were extremely pleased with the knowledge gained and the connections they made at the competition. They wanted to keep the large cardboard checks they were presented, but were told that these are reused every year. "It is an incredible feeling to see that so many people believe in the idea, from both a business perspective, as a well as socially conscious ideological standpoint," Reusch said. "The awards were an incredible prize for us; however we found that the ability to network and meet potential partners was ultimately the most valuable prize we could have obtained."
For more information about the Advanced Business Plan course, please contact Tim Lolatte, timothy.lolatte@montana.edu