Students Use Entrepreneurial Creativity to Support Local Non-Profits
Students Use Entrepreneurial Creativity to Support Local Non-Profits
In it's third year, The Entreprentice Challenge in Brent Rosso's BMGT 448 entrepreneurship course motivates students to think like entrepreneurs for local charitable causes. Given only $25 in start-up capital, with an option to match this amount with their own money, and three weeks to complete the challenge, students raised a record amount of money for local non-profits: the Gallatin Valley Food Bank and Warriors & Quiet Waters. The two course sections raised a combined total of $4,209.34 for the two organizations–the most ever for this project.
Representatives from both organizations came to the class that was donating funds to their non-profit and listened to presentations about the different entrepreneurial ventures students created to raise the money. The ventures from the two sections included student designed projects like "All Gold Everything" t-shirts, Bobcat athletic bracelets, bottle cap earrings and jewelry, to "Cupcakes by Lisa," and "Paws for Change" cookies. One team went the route of selling candy bars. Another group of students created At Your Service, Inc. and performed a broad spectrum of services that included mowing lawns, washing cars, and cleaning garages. Yet another group created oval 4940 stickers, which represents Bobcat Stadium's elevation, a unique way for Bobcat fans to show support. The student groups shared with the audience their idea generation processes, venture implementation, results, and take-aways. Some groups chose to include financials and business strategy. One team created an event fundraiser, a basketball tournament, and filmed a promotional video that recapped their venture for their classroom presentation. At the end of the class period, the representative was presented a check.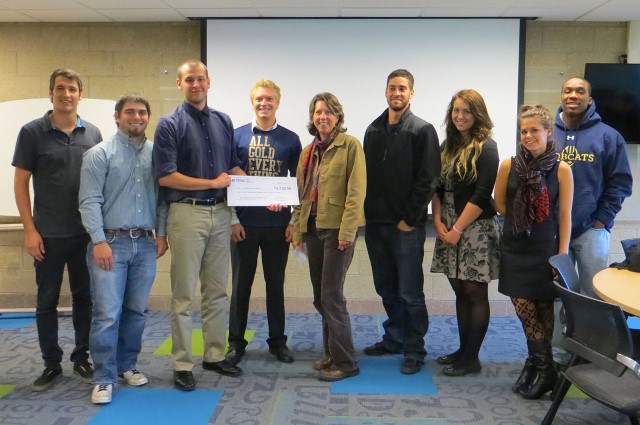 The first class section donated their profits to the Gallatin Valley Food Bank (GVFB). Jill Holder, operations manager at GVFB, was very impressed with the students. She said,"I could tell the students had put a great deal of energy into their projects. They presented their process which included successes and failures. More than once, they said they were grateful to learn some of the hard lessons from this practical experience in school, rather than in the open market. Besides being an amazing learning experience, they raised so much money, money that we will use to help many in need, right here in Gallatin County. We at the Gallatin Valley Food Bank are grateful for the students' efforts and Brent Rosso's creative teaching style."
Faye Nelson, development director for Warriors & Quiet Waters, was in attendance at the afternoon class section. She was amazed by the donation and said, "This class and project was such a fun process to be a part of. I was impressed with the students' creativity and what seemed like sincere motivation to not only get a good grade, but raise as much money as possible for Warriors & Quiet Waters. The amount raised was much higher than I expected! It costs about $600 to fly a warrior from a military hospital to Bozeman to participate in our 6-day fly-fishing program. Professor Rosso's class made it possible to bring four traumatically injured veterans or service members to our program next year. This will not only positively impact the warriors' lives, but all of those volunteers that get to interact with these heroes while they are here. Another fantastic outcome of this project is that one of the students is now going to intern with Warriors & Quiet Waters next semester!"
This class project is one of many that serves to provide a transformational learning experience for JJCBE business students. They are engaged in the wider community and put their entrepreneurial and business skills to use in order to reach their project goals, all while supporting very worthy non-profit organizations.
For more information about The Entreprentice Challenge, contact Rosso at brent.rosso@montana.edu.