Blending Research with Teaching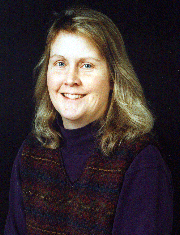 Dr. Bonita Peterson, Associate Professor of Accounting, began her career with the College of Business in 1994, after receiving her Ph.D. from Washington State University. She was familiar with the accounting program at MSU, having received her bachelor s degree here in 1983. Before her return to Bozeman, she worked as an auditor for the Montana Legislative Auditor s Office; earned an MBA and taught accounting at the University of Montana; worked as an auditor and tax accountant for KPMG Peat Marwick in Texas; and spent several summers working as an accountant in Denali National Park, Alaska. She teaches courses from the sophomore through graduate level.
Dr. Peterson s research focuses on accounting education, typically with an emphasis on fraud and professional accounting certification issues. She became interested in the subject of fraud while teaching Accounting Information Systems for several years that included a segment on the subject. Although she is already a Certified Public Accountant (CPA), Certified Management Accountant (CMA), and Certified Internal Auditor (CIA), she has one more professional certification she wishes to pursue: Certified Fraud Examiner.
Her articles have appeared in academic accounting journals such as The Journal of Forensic Accounting, Issues in Accounting Education, Accounting Perspectives, Behavioral Research in Accounting, The Accounting Educators Journal, The National Accounting Journal, and accounting practitioner journals such as Management Accounting and Internal Auditor. One article she wrote landed her on the cover of New Accountant, a national publication for accounting students. Two more of her papers will appear shortly in The Journal of Accounting Case Research and The Journal of Accounting Education.
In 1998, she received national recognition for her research when the Institute of Management Accountants awarded her the Lybrand Bronze Medal for the outstanding article of the year. That same year, she received a personal letter of thanks from Joseph T. Wells, Chairman and Founder of the Association of Certified Fraud Examiners, and a copy of his recent fraud book, in appreciation for a fraud research project she conducted. Professionally, there is no one I admire more than Joe Wells, so to receive this personal recognition from him was a tremendous honor. In 2000, she was honored with the Best Education Paper Award from the Western Region American Accounting Association. Her paper examined the extent of fraud education in accounting curricula across the country. And in 2001, she was recognized at the Western Region American Accounting Association meeting with having the #1 ranked Teaching & Curriculum paper that examined the perceptions of computer-based testing for professional accounting certification programs.
Dr. Peterson blends her research into her teaching in several ways. The true-life instructional fraud cases she has written are used in her classes every semester. Her work also applies fraud theory to examine student s perceptions of cheating ( academic fraud ). The results provide enlightened information to use in the classroom. Her research on accounting certification has generated useful knowledge to share with accounting students interested in certifications besides the CPA. Her research on computer-based testing is particularly timely, since the American Institute of Certified Public Accountants is targeting November 2003 as the date to computerize the CPA exam. As the target date approaches, computer-based testing will be a frequent topic of discussion in her Advanced Auditing course, where her Master of Professional Accountancy students are preparing to sit for the CPA exam.
Her most recent project involved examining the content and learning activities used in the few forensic accounting courses developed across the country. She hopes to use this information to develop a graduate-level forensic accounting course in the future. I love studying fraud. It is absolutely fascinating to learn what motivates otherwise ordinary people to commit fraud. And although no two cases are identical, it s also interesting to note the common characteristics present. Professor Peterson combines her research interests into some of her service activities as well. She writes questions for the Institute of Internal Auditors and the AICPA to use on the CIA and CPA exams, and she serves on the editorial board of The Journal of Forensic Accounting.
Dr. Peterson s research productivity does not come at the expense of her teaching or her family priorities. In 2000, she was selected by a student to appear in Who s Who Among America s Teachers, and in 2001, a student recipient selected her to receive the annual MSU Alumni Association and Bozeman Area Chamber of Commerce Award for Excellence in teaching. She is also the proud mother of two boys, two and four years old.