Announcing the Jabs Year of Celebration:
We are excited to launch the inaugural Year of Celebration (YOC) in the fall of 2021. The three goals for the series are: celebrate the amazing contributions of our highlighted group, inform our College of inequities, and create space to implement change. The year will be filled with speakers, programs, and events to support these goals; our celebration series is inclusive and aims to fold in people of all backgrounds.
This year we will focus on Women in Business. The theme of Women in Business was picked purposefully through data driven information, found on the "Why is this important?" webpage below.
Recent Event: Mind the Gap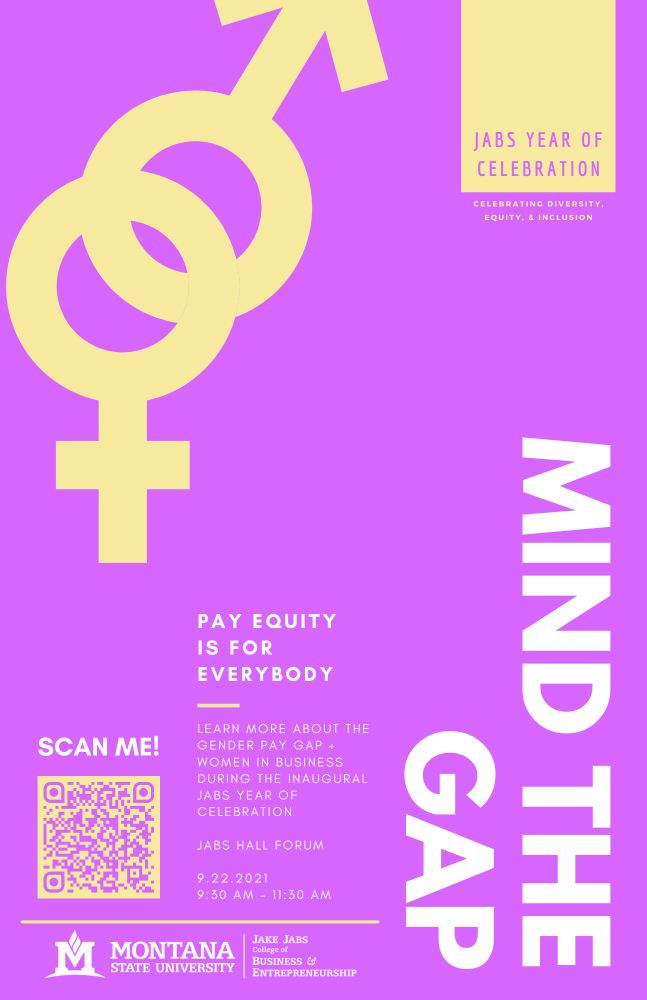 The Jabs Equity, Diversity, and Inclusion (JEDI) group presents "Mind the Gap," an interactive program about the wage gap, to kickoff the Jabs Year of Celebration series.
This program will take place on Wednesday, September 22 from 9:30 am - 12:00 pm in the Jabs Hall Forum. There will be free donuts.
-----------------------------------------------------------------------------------------
References for the information displayed at the event:
• Starting Salaries—Based on Career Destinations 2019 Annual Report—Montana State University, AYCSS 2020. http://www.montana.edu/aycss/careers/planning/career-destinations.html
• Tim Harvey, Harvey Financial Management & Dr. Lisa Yang, Assistant Professor—Finance—Algorithm for Gender Pay Differential
• There is no wage gap in female-dominated professions, such as education and nursing. False, women earn 80% of men's salaries in education.
https://www.epi.org/blog/equal-pay-day-is-a-reminder-that-you-cant-mansplain-away-the-gender-pay-gap/
https://www.dol.gov/agencies/wb/data/occupations
• Marriage negatively impacts the wage gap. True, married men make the most money, followed by unmarried men, then unmarried women, and married women.
https://www.nber.org/digest/jul17/gender-pay-gap-widens-age
• Women with advanced degrees (masters, doctorate) make the same amount of money as men with bachelors degrees. True, men with a 4-year degree make more than women with advanced degrees
https://www.epi.org/blog/equal-pay-day-is-a-reminder-that-you-cant-mansplain-away-the-gender-pay-gap/
• Women don't ask for raises as often as men, which contributes to the wage gap. False, women ask for raises as often as men, but are less likely to get them
https://hbr.org/2018/06/research-women-ask-for-raises-as-often-as-men-but-are-less-likely-to-get-them
• Men and women are both penalized in their careers for starting families. True, both parents are penalized for having children, but women are more severely penal-ized.
https://www.shrm.org/resourcesandtools/hr-topics/compensation/pages/wage-gap-is-wider-for-working-mothers.aspx#:~:text=Mothers%20in%20the%20U.S.,analysis%20of%20U.S.%20Census%20data
• Being a mother makes it harder to find a job. True, working moms are more likely to be passed up for a new job than other employees.
https://www.shrm.org/resourcesandtools/hr-topics/compensation/pages/wage-gap-is-wider-for-working-mothers.aspx#:~:text=Mothers%20in%20the%20U.S.,analysis%20of%20U.S.%20Census%20data
• All women earn 82 cents for every dollar earned by a men. False, this figure is true as an average but women of color make even less, for instance, American Indian women make 69 cents for every dollar.
https://www.payscale.com/data/gender-pay-gap#section03
• Montana has a lower wage gap than many other states. False, unfortunately Montana has a higher disparity rate than many other states, and on average women earn 72 cents for every dollar earned by a man.
https://www.dol.gov/agencies/ofccp/about/data/earnings/gender#Montana
• The pay gap gets worse for women as they get further along in their career. True, while starting salaries are generally pretty similar between men and women, the gap will widen as women get further in their careers.
https://www.statista.com/statistics/244383/female-to-male-earnings-ratio-of-workers-in-the-us-by-age/
• Legislation is helping the wage gap and it is rapidly closing. False, the gender wage gap has only closed by 4 cents in more than a decade.
https://www.americanprogress.org/issues/women/reports/2020/03/24/482141/quick-facts-gender-wage-gap/
• Women are on track to have equal pay with men by 2059. True, at the rate the pay gap has been closing for over a decade we would have pay equality by 2059.
https://www.americanprogress.org/issues/women/reports/2020/03/24/482141/quick-facts-gender-wage-gap/
• Women's unemployment rose to a higher rate than men's during COVID. True, women's unemployment rate rose to 12.8% compared to 9.9% for men in spring 2020.
https://www.aauw.org/app/uploads/2020/12/SimpleTruth_2.1.pdf
• Salary transparency is not linked to a smaller pay gap. False, sectors with published salary ranges have smaller wage disparities than sectors that do not publish their salary data.
https://ww3.aauw.org/article/salary-transparency-linked-to-smaller-gender-pay-gap/
• Women earn less than men in every country. True, women around the world earn less than men.
https://www.vox.com/2018/2/19/17018380/gender-wage-gap-childcare-penalty
• Since the pandemic, we have the same women's labor force participation as 1987. True, many women were forced out of work with layoffs and childcare.
https://blog.dol.gov/2021/03/19/5-facts-about-the-state-of-the-gender-pay-gap
• Servers and bartenders have the widest pay gaps of all professions. True, women make 78 cents and 87 cents to a man's dollar, respectively.
https://www.payscale.com/data/gender-pay-gap
• Pay inequality is solely the result of discriminatory actions by hiring officials. False, pay inequality is a structural problem and requires work from policymakers and employers to fix.
https://www.aauw.org/app/uploads/2020/12/SimpleTruth_2.1.pdf
• Women and men pay off their student loans at the same rates. False, women take about two years longer than men to repay their student loans.
https://www.aauw.org/issues/education/student-debt/
• Older women are more likely to live below the poverty line than men. True, because women make less than men, they aren't able to save as much for retirement.
https://www.aauw.org/issues/equity/retirement/
• Collectively, working women lose out on more than $500 billion a year. True, because women only earn a percentage of what men do, they lose out on a significant amount of income.
https://www.aauw.org/resources/article/fast-facts-pay-gap/