Hello, Bobcat parent and family members of first-year students,
A special welcome to those joining us for the first time! I'm Brenda Truman. My role as Assistant Dean of Student Services & Retention in the Jake Jabs College of Business & Entrepreneurship (Jabs) is to connect with students and support them along their academic journey. The purpose of this email series is to open lines of communication with you and share resources so that we, as a team, can better support your students.
I hope you were able to spend some time with your student during the winter break and enjoy the holidays. Perhaps there was some reflection on their first semester of college -- what went well, what didn't, and where they could use some extra guidance?
I always feel a little bad saying this, but the most challenging part of my job is getting students to use the multitude of resources available to them. I get it -- it's hard to ask for help. It can be even harder to admit when we need help. The thing is, everyone needs help at some point -- all of us: faculty, staff, parents, teachers, and students.
Please join me in motivating your student to start this new semester with a plan for success using our convenient resources. Our staff, pictured above, are always happy to help. I'll be sending students an email making the same appeal early next week.
All too often, I see students struggle when I know the support they need is readily accessible. Students have multiple options: their advisor, professor office hours, the Allen Yarnell Center for Student Success, Disability Services, Veteran's Services, the math learning center, the Bracken Business Communications Clinic, etc. You get the idea.
This semester I plan to focus this email series on starting college with the end in sight. I'll share what we do in Jabs to teach professionalism and career readiness to first-year college students and tell you about our internship and career programming. If we get our first-year students excited about their future careers, they are more likely to persevere through difficult courses, overcome challenges, and ultimately cross the commencement stage to receive their degrees.
Sincerely,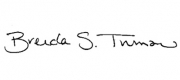 Brenda Truman
Assistant Dean of Student Services & Retention
P.S. Be sure to follow us on Instagram, Facebook, Twitter, or LinkedIn for updates and news related to our college.