Thank you for your support of this "exponentially new industry that has entered an exponential growth phase from a worldwide value of $33 million in 2015 (GMI, 2017), now projected to grow to $1.2 billion in 2023 (Reuters, 2018). In traditional ecological knowledge systems of European derivation food insect is an oxymoron…. Perceptions determine the pace of the diffusion process of an innovation such as food insects."
For the Great Basin tribes and nations, food insects were one of the two main meats produced in that ecosystem. The Week of the Bug Buffet addresses perceptions and barriers to acceptance of this ancient, yet modern, dense source of nutrients.
Most important, as President Cruzado's letter to open the 2021 Bug Buffet Week eloquently summarized, food insects are an "ancient future" package of dense nutrients that were, and will be essential to our survival.
Click on the flyers below to expand for more information on 2022 Bug Buffet events, a presentation with Sean Sherman, and the Bug Buffet Cookoff.
[R]evolution of Edible Insects in Indigenous Food Systems of North America
Thursday, March 3, 2022 from 1-5pm.
Located in the Great Hall of American Indian Hall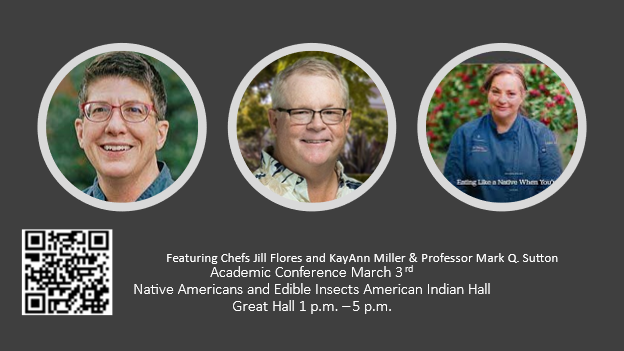 Conference Goal Part 1: Take a deep dive into the colonized, nearly forgotten, history of edible insects in Native American nations of Montana and the Great Basin.
1:00 p.m. Welcome

Dr. Walter Fleming, Department Head, MSU Native American Studies

1:15 p.m. Moderator

Dr. Florence Dunkel, Associate Professor of Entomology, Department of Plant Sciences and Plant Pathology

1:20 p.m. Keynote: Use of insects as food in the Great Basin

Dr. Mark Q. Sutton, Anthropologist, University of San Diego. Professor Emeritus in Anthropology, Department. of Sociology and Anthropology, California State University, Bakersfield

1:40 p.m. Discussion (Entomologists' response)
1:50 p.m.What is the role of Indigenous Chefs in opening the gates kept closed by ethno-centric views of what is food and what is not food?

KayAnn Miller, Chef and MSU doctoral student in Indigenous Foods, Nutrition, and Mental Health

2:05 p.m. Discussion
2:15 p.m. Historical Energy Budgets for Food Insect Resources of the Great Salt Lake/Great Basin area

Dr. Holly Hunts, Associate Professor of Consumer Science, MSU Department of Health and Human Development

2:30 p.m. Discussion
2:40 p.m. Break including light refreshments
Conference Goal Part 2. Explore Decolonizing Solutions with Indigenous chefs, entomologists, authors and journalists.
3:00 p.m. Introduction

Florence Dunkel, Associate Professor of Entomology, Department of Plant Sciences and Plant Pathology

3:05 p.m.NSF Center for Sustainable Agriculture through Insect Farming: Goals and Organization: Opportunities for Montana State University

Dr. Jeffrey Tomberlin, Professor of Entomology, Department of Entomology, Texas A&M University, College Station TX. Director and Site Director, NSF Center for Sustainable Agriculture through Insect Farming, and
Cheryl Preyer, Site Liaison, NSF Center for Sustainable Agriculture through Insect Farming. Sites located at Indiana University/Purdue University, Mississippi State University, and Texas A&M University

3:30 p.m. Discussion
3:40 p.m. How can the European settlers learn to braid sweetgrass and live regeneratively/ respectively with the land, water, air in North America?

Jacob Zimmerer, M.S. student in Native American Studies

3:50 p.m.What is the role of journalists in opening the gates kept closed by ethno-centric views of what is food and what is not food?

Emilie Filou, freelance edible insect journalist, London, England

4:00 p.m. Discussion.
4:10 p.m. Concluding statement: Learning food sovereignty from the historical record
4:20 p.m. Reception
Videos of the past years' events can be viewed here
BUGS-IN-A-BOX
We are providing free "Bugs-in-a-Box" to the campus community. The box will be a FREE "taster" of the edible insect dishes featured in the MSU catering menu. Proudly, edible insects are part of MSU Catering's overall goal of selecting as many ingredients as possible that leave behind a minimal carbon footprint and as of August 2020, we were the first in the US Land Grant system to put "bugs on the daily catering menu."
Only for those with meal plans at the Rendezvous and Miller Dining Halls (serving 3,400 students a day!)

,

edible insect entrees will be available on Thursday, March 3rd.

Bugs-in-a-Box (shelf stable) will delivered to the ASMSU Preschool, Child Development Center, and BIOO 162 CS (Issues of Insects and Human Society) students only.

Boxes will be delivered on Monday, February 28th. The items are shelf-stable, so you can receive them on one day and enjoy them with your students the next day if you like!
Bugs-in-a-Box snack treats! Its take out, free, and shelf stable! On the menu is:
Pemmican with sunflower seads and chapulines – Contains: Tree nuts, shellfish
Native American cookie (gluten-free, maize based with cricket powder) - Contains: Shellfish
Pumpkin bread with cricket or mealworm powder - Contains: Shellfish
These items do not actually contain shellfish, but we are labelling them as such because people with shellfish allergies (i.e., shrimp, lobster, scallops, clams, etc.) should avoid eating insects because shellfish and insects share common proteins associated with allergic reactions.
Remember food insects are an "ancient future" package of dense nutrients that were, and will be essential to our survival.
Bug Appetit!
More Information regarding the benefits of bugs as food:
Prospera Lab tour. https://youtu.be/_RXOITbR2R8
Mission
The USDA National Institute of Food and Agriculture has proposed that the environmental footprint of agriculture (water and land use, ammonia production, greenhouse gas emissions, fossil fuel use) be reduced 50% by 2030. Montana is one of the few states in the US that derives much of its income from agriculture ($2.4 billion annually). It is the mission of this committee to raise awareness on campus and within the State of Montana of the opportunities edible insects, insects as a food ingredient, and insects as feed ingredients provide in reducing the footprint of agriculture.
History
The first Montana State University (MSU) insect feast was held in February 1989 attended by only the students in a University Core course in Technology. The only item on the menu was a Montana grasshopper, Melanoplus sanguinipes, raised on grain and romaine lettuce in the USDA ARS Grasshopper Lab on the MSU campus. A frying pan, portable hotplate, and a pound of butter were the only other supplies and equipment used for the buffet. Within 50 minutes the heaping platter of grasshoppers were consumed. Less than 20% of the 25 attendees were pleased and convinced this was a new food of the future for Euro-Americans.
This annual banquet, always in February, grew to become well-known across campus and within Gallatin Valley. Over the years our guests have included feature writers from the New Yorker, Field and Stream, the Tokyo Times and the Chinese News Service (CCTV) as well as a Canadian documentary film crew who have just released their film, Bugs on the Menu. Twenty-nine years later, the banquet hosts over 850 guests and a seven course menu. The 2017 exit survey indicated the acceptance rating is in the ninety percent range.
The Bug Buffet is now prepared by the MSU Food Service and is more than a campus event. Guests come from local pre-schools, grade schools, middle schools both public and private, and Bozeman High School. It is no longer just a buffet. The event is a week-long series of workshops held in the Colleges of Agriculture, Business, Education Health and Human Development, and in the School of Film and Photography. The entire event is organized by the Bug Buffet Committee in collaboration with a University Core course in Contemporary Issues in Science with an annual budget of from $6,500 in contributions from academic units on campus and corporate sponsors nationally and internationally.
The first edible insect farm in Montana, Cowboy Cricket Farms, L.L.C., Belgrade, MT, was a direct result of the 2016 Bug Buffet workshops in Nutritional Sciences at MSU. Cowboy Crickets recently built their own commercial kitchen in Belgrade, MT, and one of their several products, a post workout recovery cookie is available in shops in Bozeman and on the Web.