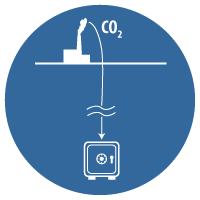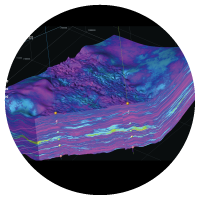 Excess carbon dioxide in the atmosphere is a major contributor to global warming, and one of the methods proposed to reduce humankind's CO2 emissions is carbon sequestration — storing CO2 deep within the earth — and through farming and forestry practices. Scientists at MSU are on the forefront of both geologic and terrestrial carbon sequestration research.
Geologic sequestration involves injecting "supercritical" CO2 deep underground where it is stored in porous rock formations. The oil industry has been injecting relatively small amounts of CO2 underground for decades to enhance oil production, but now scientists are looking for ways to put billions of tons of CO2 safely underground.
For decades, various industrial operations have injected and stored CO2 and other gases underground, and naturally occurring deposits of oil and gas trapped underground show scientists that CO2 can be safely and permanently stored beneath the ground. Now earth scientists at MSU are using new theories about sedimentary rocks, computer modeling, and three-dimensional seismic data to characterize the subsurface rock formations in the northwestern United States where CO2 may be stored. This work tells scientists how CO2 behaves and moves through underground formations and how to make sequestration work at different injection sites.
MSU is also involved in terrestrial sequestration — using soil and forest management techniques to store excess carbon. MSU's research involves effectively managing agricultural and forested lands to increase the amount of carbon that can be stored in the soil.