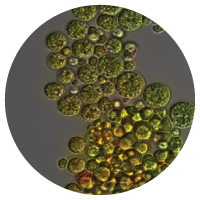 A significant fraction of energy research at MSU is focused on biofuels. Biofuels, such as biodiesel and ethanol, are derived from grains, seeds, and other biological matter. Theoretically, burning biofuels rather than fossil fuels contributes less carbon to the atmosphere because the plants used to produce the biofuel absorbed carbon from the air during their lives. MSU's research aims at making biofuels more efficient and cost effective from both the industrial and agricultural points of view.
Agricultural biofuel research at MSU focuses on the understanding of genetic and biochemical factors that control fatty acid and lipid biosynthesis in oilseed plants for fuel production and for value added products such as biolubricants and bioplastics.
Researchers at MSU are also studying how oils extracted from algae can be turned into biodiesel. This research focuses on getting algae to produce more oil and finding the most efficient ways to grow them for harvesting. The benefits of using algae is that algae has higher lipid production per acre than traditional crops and it can be grown in low quality water that isn't useable for agriculture.