Implementing Inclusive Practices in the Classroom, Research, and Outreach
Held Monday – Friday, February 28 – March 4, 2022
MSU has a Diversity and Inclusion Framework that includes goals around ensuring access to equitable educational experiences, fostering welcoming learning environments, and implementing professional development opportunities around diversity and inclusion.
This series of presentations was created so that faculty and staff could share their inclusive practices with a broad audience. Some of the participants received grants from their college to pursue their ideas and others were nominated by their college to share their work. We wanted to have a broad range of applications and colleges to share many different ideas and contexts for inclusive practices.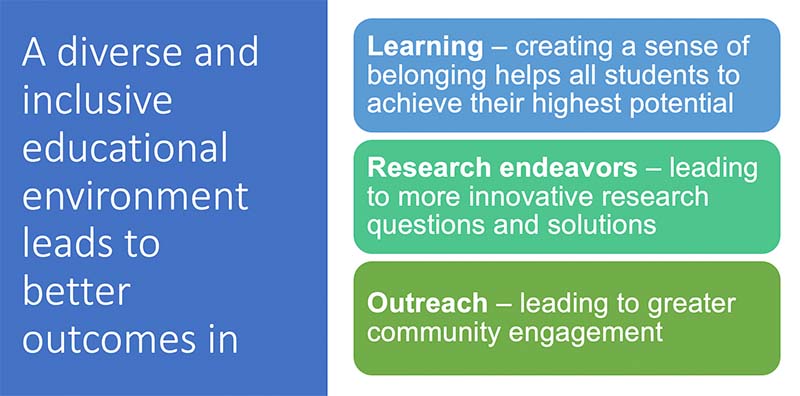 Each one-hour session consisted of three 5-min presentations followed by live questions and discussion.
Sponsored by
Office of Diversity & Inclusion
College of Letters & Science
Center for Faculty Excellence
College of Education, Health & Human Development
Recorded Presentations
Click on the "watch now" link to watch the recording. You will need your NetID and password.
Teaching

Closed Captioning as a Tool to Increase Inclusive Teaching
Lisa Brown, Gallatin College

Indigenous Perspectives in School Librarianship
Deborah Rinio, Education

Bringing DEI to Academic Advising: How we can be culturally humble advisors
Sara Heller, Health & Human Dev.

Identity and Inclusivity in Proof Based Mathematics
Ryan Grady and Derek Williams, Mathematical Sciences

Scholars in Conversation: Amplifying BIPOC research and voices through video podcasting
Cody Warner, Sociology & Anthropology

Exploring and Analyzing Diversity, Equity and Inclusion in Montana through Podcasting in WRIT 201
Jean Arthur-Sellegren, English

Digital Equity & Inclusion Strategies at the MSU Library
Rachelle McLain and Jacqueline Frank, Library

Rethinking Creativity, Craft, and Audience in the Writing Workshop
Zach Bean, English

Universal Design is Accessible Learning for All Abilities

Kyndra Campbell, Gallatin College

Research

Mentoring Tribal students in community-based graduate work
Mari Eggers, Microbiology & Cell Biology

Doyle, J., Martin, C., Young, S.L., Lefthand, M.J., Three Irons, E., Eggers, M.J. 2022. Graduate Research Serving Apsáalooke Communities. In Atalay, S., McCleary, A. The Community Based PhD: Complexities and triumphs of conducting CBPR. U of Arizona Press.

Bystander Intervention Training and Building a More Extensive Field Safety Guide
Madison Myers and Meredith Knowles, Earth Sciences

Gender Affirming Research Practices
Denise Rivera, Nursing

Outreach

Effect of Leadership Development on MT Music Teacher Vacancies
Tobin Stewart, School of Music

Diversity, Equity and Inclusion in MSU Youth STEM Outreach
Suzi Taylor, Science Math Resource Center

Infusing Equity in the Montana Farm to School Summit
Aubree Roth, Montana Nutrition Program