President's Award for Excellence in Service Learning
The award will recognize the partnering pair who has together engaged students in quality service learning. Through service learning, students apply their academic skills and knowledge to address the genuine needs of a community organization. This provides students with a deeper understanding of their studies and fosters a stronger sense of civic responsibility. Learn more and nominate an individual
2022 - Congratulations to Galen Brokaw!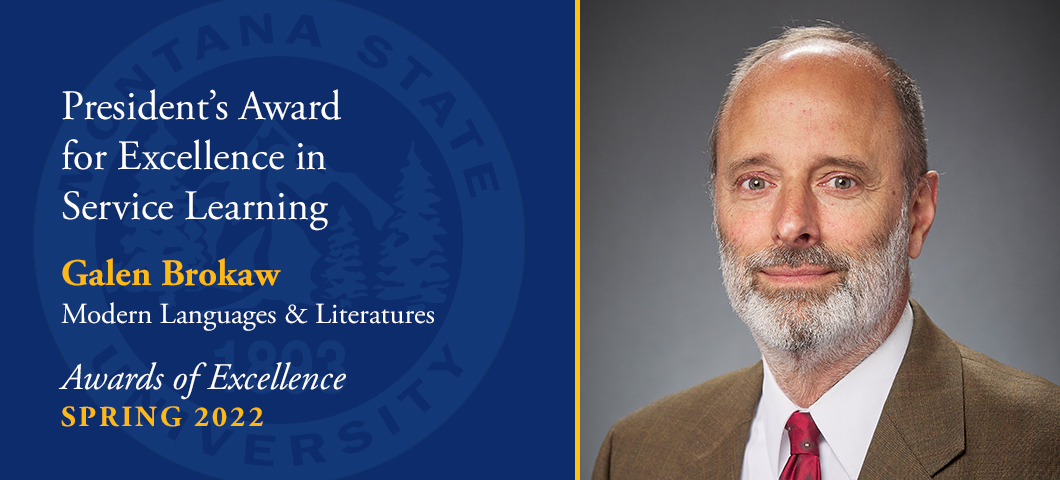 Galen Brokaw, is a professor of Hispanic studies and Latin American and Latino studies and the head of the Department of Modern Languages and Literatures. He has taught service learning courses since 2016. His course pairs MSU students with English language learners in the Bozeman Public Schools. MSU language students are placed in elementary school classes that include students not fluent in English.
Learn more about Galen's award
Learn more about the 2022 awardees
Click here to see all past recipients
The selection committee will evaluate nominees on the following criteria:
Learning Objectives Describe the service learning course on which the nominated pair partnered. What were the course learning objectives? (Please attach a copy of the syllabus from the service learning course.)
Service Learning Activities ~ Community Need Describe the kinds of service students provided in the nominated pairs' service learning course. What was the community need the service addressed? How was the need identified and by whom? Please provide an example of the nature of students' actual service activities. Describe the way the course was structured and the way the service activities were integrated with the academic content of the course. Describe the impact the service learning course had on the students, the community organization, and the faculty member/community partner pair. How was impact measured?
Assessment of Student Learning ~ Reflection Describe how you assessed student learning. What types of reflection activities were used in this course and with what frequency?
Partnership Describe how this partnership evolved? Explain the roles and responsibilities of each partner in this service learning course endeavor. How did partners maintain communication? Why was this partnership a success? Selection Criteria: The assessment of nominees will involve consideration of the quality of the partnership, and will be heavily weighted around how well the service learning course meets the best practices of service learning listed below:

identified learning objectives
evaluation and/or assessment of student learning
structured reflection activities
addresses an actual community identified need Faculty members and their community partners are asked to complete their nomination online
Faculty members and their community partners are asked to complete their nomination online.
Click here for more information.
Questions about the President's Award for Excellence in Service Learning should be addressed to Rebekah VanWieren, Chair of the Service Learning Advisory Committee at [email protected].
Past Recipients
2021 - Congratulations to Susanne Cowan!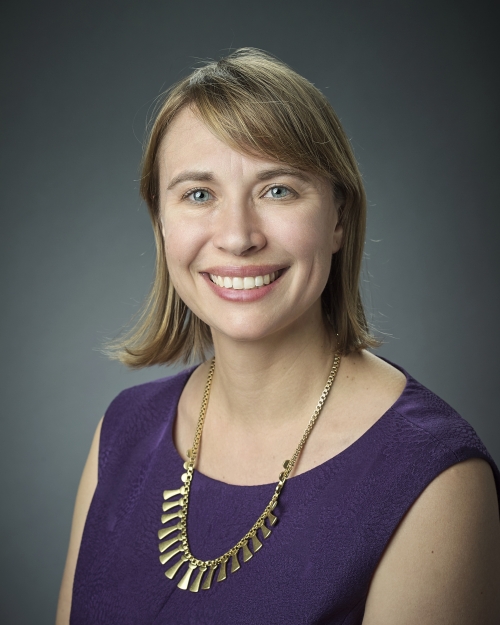 Susanne Cowan, who came to MSU in 2014, researches the relationship between urban design and the social conditions of cities. In particular, she studies the impact of participatory democracy and community organizing on neighborhood planning.
Learn more about Susanne's award
2020 Lucia Ricciardelli, associate professor of film in the School of Film and Photography
2019 Wendy Bianchini Morrison, instructor in the Department of Health and Human Development.
2018 Thomas McNab, a member of the faculty in the School of Architecture.