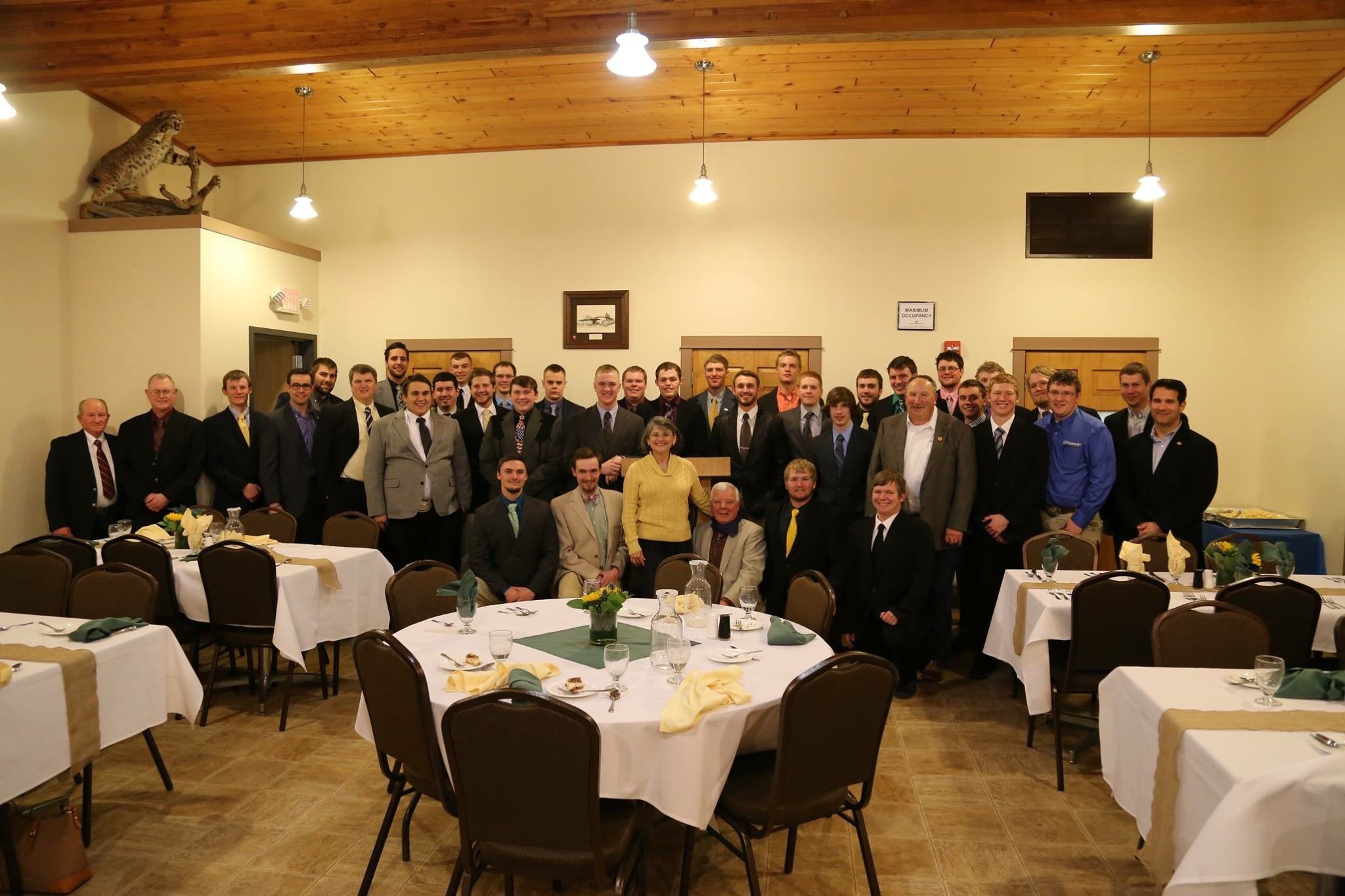 The world needs a few good men. The kind of men who lead by the example of their character and the value of their actions. For more than 100 years, Alpha Gamma Rho Fraternity has successfully endeavored to make such men taking the best and making them better by helping to harness the power within each man to achieve his potential.
Alpha Gamma Rho is actually two fraternities in one. We're a social fraternity offering a host of experiences that involve our members in the rich social fabric of college life, plus we're a professional fraternity bonding our members in a common cause to better themselves as they pursue careers in agriculture, food or fiber industries.
For every man, the road to personal excellence offers both trial and triumph. The road is never easy. But in AGR, you'll find a group of men of brothers dedicated to helping each other find triumph on that road.
Come with us. Share the journey.
Chapter Update
Hopefully this report finds our brothers, alumni, friends and family well. Here in Bozeman, Alpha Delta is experiencing our second semester in our beautiful newly renovated home. We are taking every advantage to show it off. On top of last semesters well attended alumni reception, we have broken in our new home with visits from the Dean of the College of Agriculture, Dr. Charles Boyer. Our proudest moment in displaying the house however, would definitely be our dinner with the president of MSU, Dr. Waded Cruzado. Beautifully decorated and deliciously catered, the dinner was a major success!
Along with keeping that new house in top shape, our 62 actives and 32 live ins have been working hard to further their college careers. Campus involvement has been a massive part of our brothers experience at MSU. Our men have visited cities such as Denver and Pittsburgh to promote agriculture with their various clubs. Our men's involvement in our philanthropy resulted in our chapter winning the 2017 Fraternity Philanthropy Award at this years Fraternity and Sorority Life Celebration. Our chapter donated over $15,000 dollars between Montana FFA, 4H, and the Animal Rescue Hospital. We also nominated two of our members, Ben Roeder and John Walker for recognition at this event. Our newest officer team has had an amazing start this last term. From attending officer training events in Reno, to completing additional online trainings, they are a highly motivated group of men ready to lead Alpha Delta forward. We wish another one of our leaders, former president and undergraduate nominee Brant Marsh luck in his future endeavors as he seeks election to one of the 4 available positions at the national level.
Alpha Delta has exceeded over this past year. In the future, we will continue with our emphasis on philanthropy, professionalism, sociality and involvement. We will continually strive to focus and improve ourselves, our brothers, our studies and most of all, our fraternity.
Fraternally,
Dan Brock, Noble Ruler
Philanthropy

United Way, Montana FFA Foundation, and Farm Rescue

Address

1707 Greek Way

Bozeman, MT 59717

Local Chapter Website
National Website
Recruitment Chair

Parker Lambourn

(701) 449-9222

President

Lane Lerum

406-460-0558