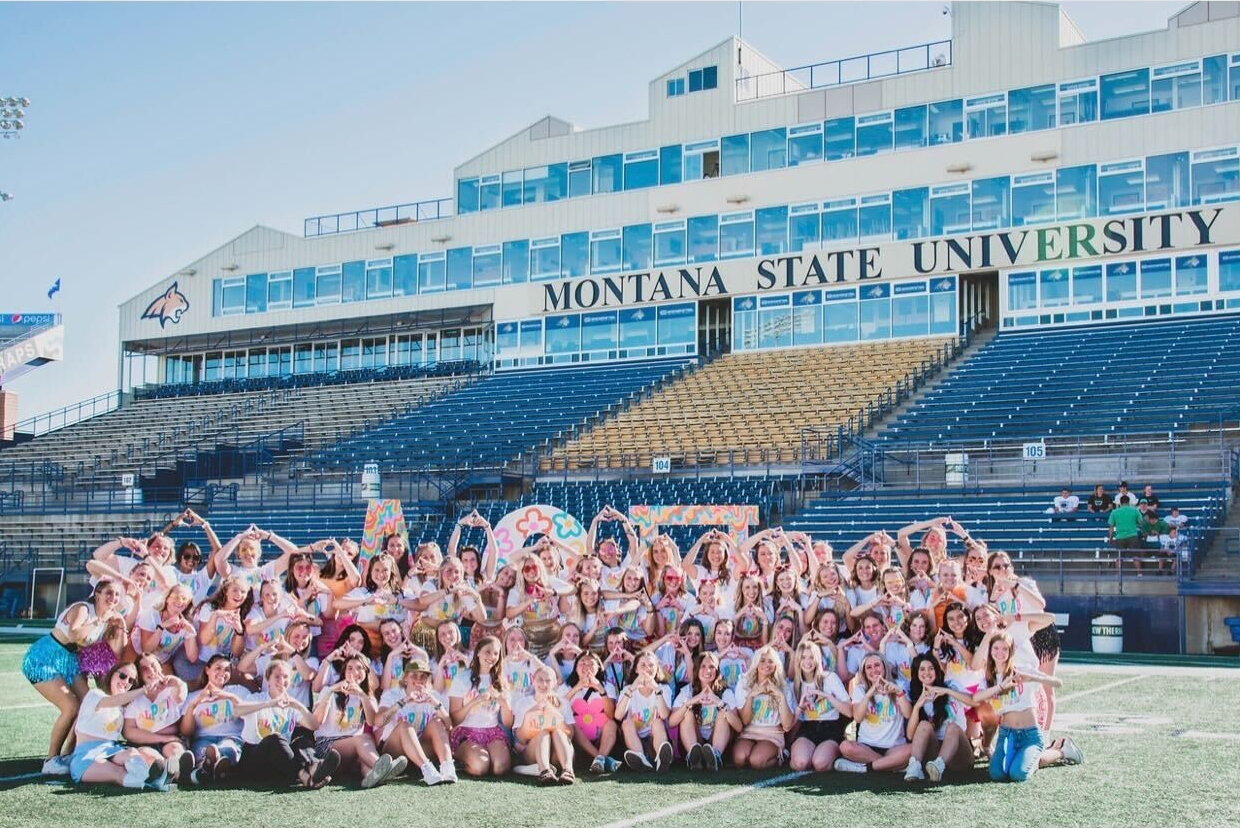 Alpha Omicron Pi's greatest strength is our members... unique as individuals, yet bound together by the common bond of friendship. Since 1897, over 126,000 women have found fun and friendship in the sisterhood of AOII. Our members have a place to call home, a place to find a friend, and a place to be themselves. We also support our members through programming and leadership development. Our desire is to help our members become the best they can be - personally, professionally and philanthropically.
Thanks to the vision of many remarkable women, AOII enjoyed tremendous success during our first 100 years. Alpha Omicron Pi has chartered 178 collegiate chapters, and over 320 alumnae chapters located throughout the United States and Canada. Our members enjoy friendship in AOII for a lifetime. As we boldly focus on our second century, we envision a future even more glorious than our past.
Chapter Update
The Alpha Phi chapter of Alpha Omicron Pi has high aspirations for 2023 after the success we had in 2022! We are so excited for 2023 and to continue to grow as a chapter, support local and national philanthropic efforts and stay involved in the campus community. Our recruitment in the last year has grown exponentially. We initiated 31 new members in Fall 2022 and are so impressed in the ways these women have supported our chapter thus far and will contribute to the chapter moving forwards. We are just wrapping up Continuous Ongoing Bidding for the spring semester and have extended 21 bids to amazing women.
Our philanthropy is an aspect of Fraternity and Sorority Life that we value as a chapter. In the Spring 2022 semester we canvassed and held a bake sale for Students Against Sexual Assault, collected donations for Family Promise at Walmart and served over 100 meals at the Fork and Spook pay what you can restaurant! In the Fall 2022 semester, we had a clothing and family supplies drive to start a clothing closet for foster families in the Gallatin Valley. Throughout the year, for our own international philanthropy, The Arthritis Foundation, we held our 4th Annual Pancake Breakfast and our 25th Annual Run for the Roses 5K. These events raised over $7,000, were a great opportunity to spread awareness about juvenile arthritis and provided the opportunity for our family and friends to gather for a great cause.
This last year our chapter enjoyed getting to be more involved within our campus and Fraternity and Sorority Life Community! In the spring, we held our Guy of AOII competition where all the fraternities provided a participant who took part in challenges such as a high heels race, AOII trivia and talent shows. In the Fall, we had a homecoming float with the Alpha Gamma Rho Fraternity and three of our members swept the MSU homecoming competition for Leadership, Service and Involvement.
Over the summer our chapter brought home multiple national awards from our AOII headquarters: Excellence in Programming and Enrichment, Excellence in Philanthropy and Service and Excellence in Communications and PR. One of our members was also selected as one of 6 recipients nationwide as a Collegiate Woman of Leadership. We believe these awards exemplify the values we hold as a chapter: ambition, service, diversity and leadership.