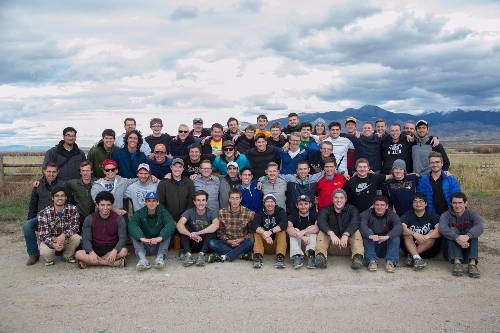 Sigma Phi Epsilon was founded at Richmond College, now the University of Richmond, on November 1, 1901, on the Cardinal Principles: Virtue, Diligence, and Brotherly Love. Today, the Fraternity has grown to more than 262,000 lifetime members, including 13,500 undergraduates on 260 campuses in the United States. SigEp is the currently the largest fraternity in terms of undergraduate enrollment.
Chapter Update
With the '17-'18 academic year concluded, the Montana Beta chapter is excited to share the accomplishments of the fraternity in the past year and looks forward towards the upcoming semesters. With a goal of recruiting the brightest and most well rounded individuals from the entering class, the chapter was elated to bring in 24 new members over the course of the year, and was recognized by SigEp nationals with an Excelsior Award for outstanding recruitment. The chapter is also proud to be a leader in substance free-facilities, both on campus and in SigEp nationally. Brother and former chapter president Connor Hoffmann led a coalition of chapters across the nation to make all SigEp chapters substance-free by 2020, and was recognized by receiving the Frank J. Ruck leadership award. The chapter has always put a strong emphasis on academic excellence, and this year was no exception. Finishing with a chapter GPA of 3.49 first semester and 3.51 the second, the Montana Beta chapter had the highest GPA of all fraternities and sororities both semesters. Brothers were recognized for their individual excellence in academics and leadership on a national level as well, with brother Ryan Mason winning the prestigious Goldwater scholarship, awarded to undergraduates showing exceptional promise in science, engineering, and mathematics. Brother Connor Hoffmann received the Truman Scholarship, the nation's premier scholarship for those looking to enter into a career in public service.
Across campus, SigEps can be found in the forefront of student engagement. For the second year in a row, a brother will be serving as student body president, with Taylor Blossom elected to serve this upcoming year. Two brothers were elected to senate positions as well for the '18-'19 academic year. Members can be found actively engaged in the Honors college and also serving in the VOICE Center, addressing sexual violence through advocacy, education, and social action. SigEp has brothers serving in Army and Air Force ROTC, playing on the Lacrosse Team, singing in Rhapsody, the student led a cappella group, working as Resident Advisors (RAs), and heavily involved in research across campus amongst many other activities. The chapter was excited to volunteer this year with Eagle Mount, Habitat for Humanity, and raise money for Special Olympics Montana through the Polar Plunge. Brothers also enjoyed many brotherhood activities throughout the year, such as rafting the Yellowstone River, paintball, and swing dancing to only name a few. The chapter is anxiously waiting for another great year to start!
Information