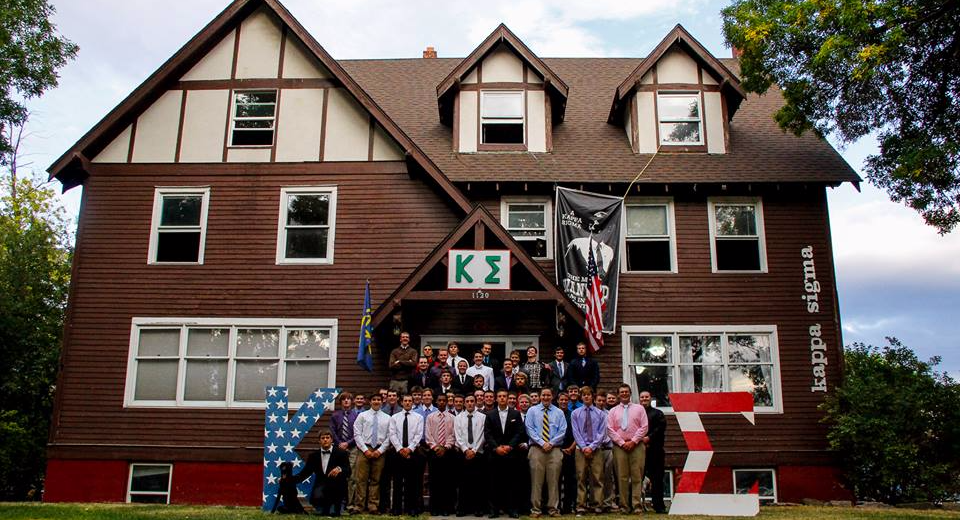 Kappa Sigma is the largest national fraternity, with over 300,000 living alumni and 316 undergraduate chapters. A lifelong network of friends and brothers exists across the nation for all Kappa Sigmas, giving members opportunities that stretch far beyond MSU's campus. Founded December 10, 1869 at the University of Virginia, Kappa Sigma men strive for excellence in Fellowship, Leadership, Scholarship and Service.
Becoming a Kappa Sigma provides the framework for molding yourself into the man you want to be. Kappa Sigma Fraternity Members are involved in all aspects of campus life, excel academically as students and professionally upon graduation, develop lifelong bonds with those around them, support their peers and community members, and serve their colleges and communities without hesitation. Additionally, the Fraternity gives back to it's members: over $300,000 is awarded each year by the Kappa Sigma Endowment Fund to Brothers who excel in scholarship and leadership.

Kappa Sigma has a long list of notable alumni, from politicians to entrepreneurs to scientists and engineers. Buzz Aldrin, Astronomer Edwin Hubble, Willard Rockwell of Rockwell International (space shuttle builders), Bill Hewlett of Hewlett-Packard, Craig Barrett CEO of Intel, The Olin Brothers of Olin Chemical, heart transplant pioneer Dr. Denton Cooley, and Ford CEO Alan Mullaney all wear the badge of Kappa Sigma. These men, among many others, comprise the large network of successful Kappa Sigma alumni around the nation and world.
Chapter Update
The Delta Lambda chapter of Kappa Sigma is prospering, and anticipation is in the air as we are preparing to start off the fall semester strong. This past spring, we are proud to have sent off 8 graduates across various fields of study.
For those of us still finishing out the remainder of our collegians careers there are plenty of activities to keep us occupied through the summer and into the fall. Our house is getting updated with new carpet, fresh paint, and various small indoor and outdoor remodeling projects. Kappa Sigma is always open to visitors, come on down for tours or just to say hi!
The recruitment team is preparing for any scenario we may face this semester to ensure our new incoming class is warmly welcomed. Events and community engagement is a high priority for all of us and we are looking forward to when campus is full again. Be on the lookout for our rush schedule and updates via social media.

Kappa Sigma members at Montana State have spent much of their time volunteering and raising money for philanthropies, this year especially we are excited to unveil a community wide philanthropy event in November. Our annual Sushi for Soldiers is being held at Seven and has expanded to include a 5k and 11k race. Sign-ups and information are being released over the summer; we hope to see you all there.
As the year progresses, Delta-Lambda is focused on continuing and increasing our excellence across the board, including campus involvement, community service, and academics.
Information
Philanthropy
Warriors in Quiet Waters
Address

1120 South 6th Ave

Bozeman, MT 59715

Local Chapter Website
National Website
kappasigma.org
Recruitment Chair

Asher Johnson

President

Spencer Schwartz