Department Internships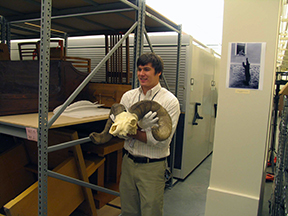 Tyler Watkins catalogs artifacts during an internship in Yellowstone National Park.
The Department of History and Philosophy offers a variety of internship opportunities for both undergraduate and graduate students. Internships are designed to help students gain career skills within their field while also contributing to the greater Gallatin community. Many of the internships listed below may be completed by students for credit towards graduation.
Current Internship Opportunities
The internship program at the Gallatin History Museum is available to graduate or undergraduate students at a college or university.
The Buffalo Bill Historical Center offers summer internship programs providing specialized learning experiences in a museum setting. They offer seasonal paid internships as well as volunteer opportunities throughout the year.
For more information on internships, please visit http://centerofthewest.org/learn/internships/.
The HIstoric Preservation Office offers internship and other opportunities at various times.
To apply, please contact Phil Gonzalez, Historic Preservation Officer, 406-582-2940.
To learn about current internship opportunities at the Yellowstone Gateway Museum, please visit http://yellowstonegatewaymuseum.org/volunteer/.
The Student Conservation Association (SCA) is the nation's leading provider of expense-paid internships and service opportunities in parks, forests, historic sites and urban communities in all 50 states. Interns participate in programs 3-12 months long, during the summer or year-round.
Internship Contact Information
For more information, contact the history department at [email protected].
Internship Application