History Undergraduate Opportunities
Major Options:
History (Teaching)
History (SETS)
History
Philosophy
Philosophy is unique in uniting the formal aspects of critical analysis with exciting issues and questions that impact our lives. Philosophical thinking opens new perspectives for students, provides tools for better understanding, and enables students to make critical distinctions. Philosophy emphasizes and encourages reflective, autonomous thinking as well as careful, attentive understanding and analysis.
We offer both a Bachelor of Arts in Philosophy and a minor in Philosophy. We specialize in ethics, philosophy of science, epistemology, feminist philosophy, philosophy of film, aesthetics, and critical philosophy of race.
Philosophy courses at Montana State University examine the history of philosophy as well as innovations and issues in contemporary philosophy. We offer classes from the introductory level to upper-division courses in ethics, theory of knowledge, feminist philosophy, philosophy of race, philosophy of science, Asian and Continental philosophy, philosophy of law, philosophy of technology, philosophy of film, philosophy of religion, logic, and American pragmaticism.
The goals of our program are to help students develop the ability to read critically, think critically, listen to others critically, discuss critically, and write critically. Acquiring these skills serves the multiple purposes of becoming aware of the views of others on crucial matters of human existence, of thoroughly understanding these views, and of appreciating their strengths and/or weaknesses. As such, philosophy develops skills that are broadly applicable in human life and become particularly useful in professions such as law, government, business, computer science, and medical school.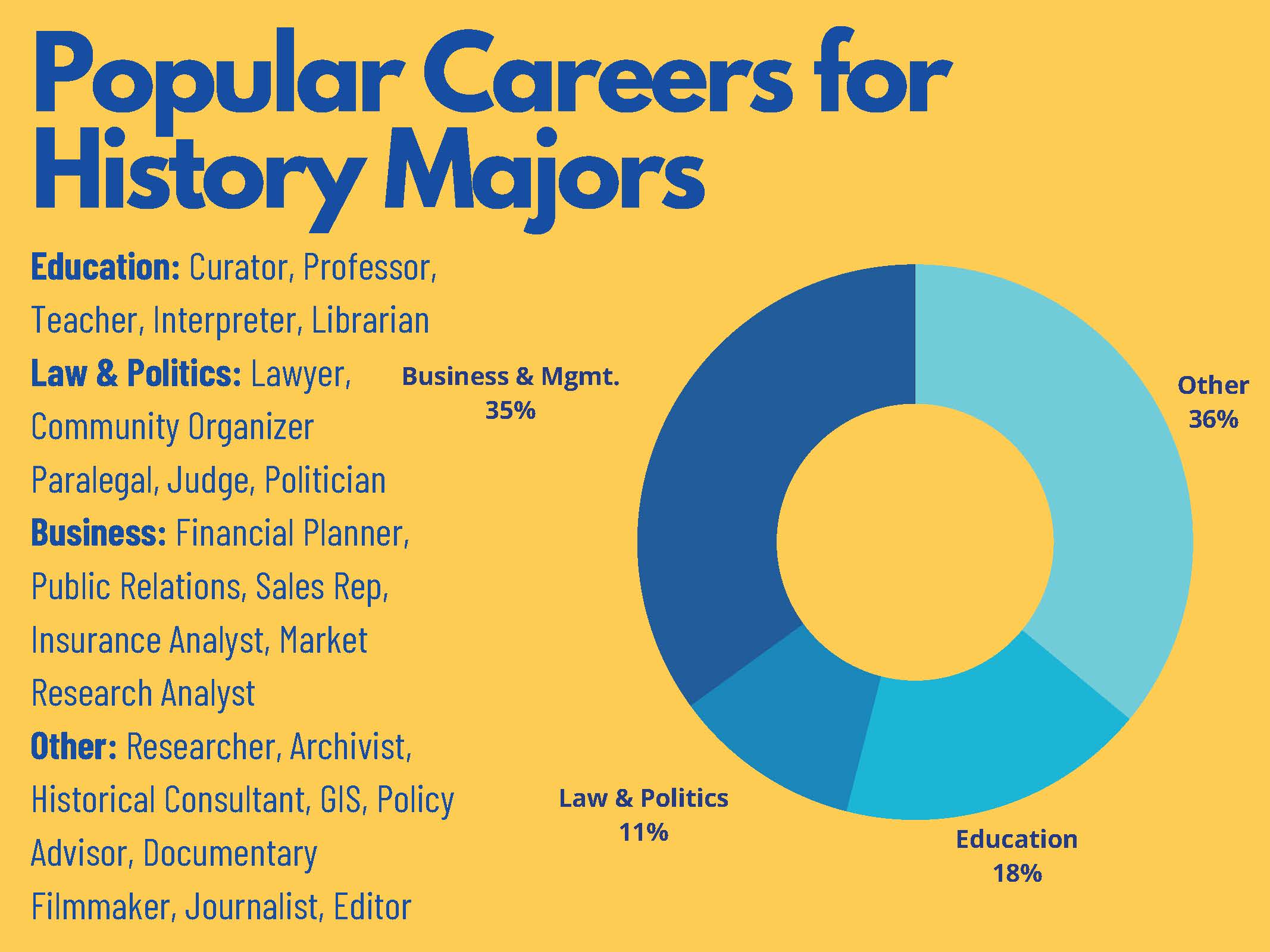 Data from nortonlearningblog.com
What to do with a history major
Every aspect of humans' lives is shaped by political, environmental, cultural, and social factors. Our students ask the historical questions to understand why the world is the way that it is and how they can change it for the better. While our students can explore history major and minor options, the skills they learn in our courses prepare them for careers in a wide variety of fields including business, law, government, international business, education, research, public history, historic preservation, and numerous other areas. Regardless of what career you choose, you will be able to think critically, write persuasively, consider a problem from multiple perspectives, and ask relevant questions -- these are the intellectual skills that many employers demand.
Our career paths are designed to help you craft an academic plan for your specific interests and future goals. To find descriptions of the courses below, check out our online catalog - all the history course options are listed under the History Major Option. Click on the course number to see the course description.
Pre-Professional Career Path
Pre-Law
History's emphasis on reading and interpreting evidence, understanding context, and writing makes it an ideal pre-law major. History students develop the ability to make clear and reasoned arguments, along with critical thinking, research, and writing skills that are necessary for the study of law. In addition, lawyers often use primary sources (photographs, depositions, contracts) with secondary sources (case law) to develop their cases. All history courses help to prepare students for law school, but here are some suggested additional options.
Public History
Public historians use many skills that we teach in our department. From collaborating with community partners to giving research presentations to broad public audiences, public historians use a variety of methods such as museum exhibits, documentary films, oral histories, and digital media. In their work, public historians make history interesting and accessible to the general public. Our students look at potential careers in museums, archives, research libraries, non-profits, cultural resource management, historic preservation offices with state and local governments, and National Parks, to name a few popular options.
Education
Our history education students find jobs working in middle schools and secondary schools teaching history and history-related subjects across the nation. In conjunction with the Department of Education, the department offers a teacher education program for students seeking careers teaching secondary level history or social studies. Students who want to be certified to teach should be enrolled in a teaching major. By earning their degrees in the History Teaching Option, students may apply for state certification. For more information, go to the Department of Education website.
Government and International Relations
Critical thinking, problem-solving, and communication skills are invaluable for careers in the government sector and our history students learn all of these. In addition, having an understanding of how the world has worked historically benefits students who are looking for jobs in international relations.
Business
An increasing number of history majors are going into business related jobs. History majors learn skills that set them apart – outstanding reading and writing skills paired with strong communication and presentation skills are necessary for many jobs. In addition, our students learn intangible skills such as a sense of perspective, an ability to make connections, and a willingness to see the world as a dynamic, ever changing place.
Thematic Study
Environmental
Our environmental history professors teach students how to use fragmentary data from the past to make strong and convincing arguments. And in environmental history, they use traditional archives as well as interdisciplinary sources: scientific reports, public policy, and the laboratory of the outdoors. Having experience in these areas helps our students to find jobs in environmentally related fields.
Race, Gender, and Sexuality
These courses highlight how race, gender, and sexuality have profoundly shaped societies, religious beliefs, personal identity, and political mobilization across history and across the globe. These interrelated historical forces have structured social hierarchies and inequalities and have intersected with one another to support and subvert social and political formations, such as identity, class, nation, and empire.
Science, Environment, Technology, Society (SETS)
The SETS major offers students a multi-disciplinary course of study that analyzes science, technology, and the environment within their broader cultural contexts, including intellectual and social history, environmental history, religious studies, and philosophy.
Regional Study
American West
Specializing in the History of America and the American West, the department offers advanced level coursework in topics ranging from "Montana and the West" to "Food in America" to "History of American Indians."
American History
Gaining a strong background in American history helps to understand the evolution of the country and what it means to be an America. Our faculty cover all periods of American history in their courses which give students a broad perspective and context on current and historical events.
Asian History
Asia has shaped our world's history and will continue to do so. Our courses give students the background on historical factors in the development of modern Asian nations and insight into the cultures and peoples found on our largest continent with almost sixty percent of the world's population.
European History
The study of Europe, as the source of many of the ideas that have shaped our country and the world, remains central to understanding processes that shape our lives. From the development of ideas about the nation-state, democracy, and capitalism to the invention of the printing press, the railroad, and other
Latin American History
Students interested in transnational studies or the history of Latin America will find a variety of courses available to them. Research interests of faculty are wide ranging and include social, cultural, and political history, and the study of migration, labor, politics, environment, gender and race relations, and popular movements.
Middle Eastern and Egyptian History
The Middle East has long been a the center of human history - from some of the world's first civilizations to today's news. Courses explore the birth of world religions, the rise and fall of great empires, the development of scientific and mathematic and philosophical ideas, the rise of global political movements, and intellectual production and ownership of antiquity.